Richard III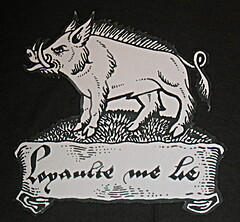 Denne gruppe er en hvilende gruppe. Det sker når en gruppe har været inaktiv længe.
Hvis du vil puste liv i gruppe igen eller oprette en ny gruppe med samme emne, så se først denne side.
For those who study the life and times of King Richard III, last of the medieval English kings (2 October 1452 – 22 August 1485); he was King of England from 1483 until his death at the Battle of Bosworth, which ended the Wars of the Roses, a dynastic struggle in the later middle ages that pitted Yorkist against Lancastrian.
Books here may include fifteenth-century England and its culture, and the reputation of Richard III in history, fiction, and drama, especially Shakespeare, whose play made Richard III infamous.
Emne

Emne

Kommentarer

Seneste Meddelelse

The Daughter of Time

11 ulæste

/ 11

skeggy

,

maj

2019
Has anyone read "The Murders of Richard III" by Elizabeth Peters?

3 ulæste

/ 3

Taphophile13

,

juli

2018
Richard & scoliosis

2 ulæste

/ 2

VivienneR

,

marts

2015
Richard's body found?

18 ulæste

/ 18

varielle

,

august

2014
What did Richard III have for dinner?

1 ulæst

/ 1

varielle

,

august

2014
Wanted

3 ulæste

/ 3

DanMat

,

december

2013
Introductions/Why Richard III?

64 ulæste

/ 64

Storeetllr

,

august

2013
Libri illustrissimi Principis Ducis gloucestr on LibraryThing

4 ulæste

/ 4

EllenLEkstrom

,

februar

2013
Results tomorrow!

28 ulæste

/ 28

Booksloth

,

februar

2013
Other traditional "portraits"

6 ulæste

/ 6

amy2011

,

oktober

2011
Author chat - Sharon Kay Penman

3 ulæste

/ 3

myshelves

,

august

2009
Buck

5 ulæste

/ 5

lemurlover

,

april

2009
recommendations?

11 ulæste

/ 11

boswellbaxter

,

marts

2009
Books by Hallam - advice sought

2 ulæste

/ 2

Fey

,

marts

2009
In memoriam

2 ulæste

/ 2

devenish

,

august

2007
R III in unrelated books

5 ulæste

/ 5

Foxhunter

,

august

2007
Book Threads

2 ulæste

/ 2

mansfieldhistory

,

juni

2007
Extra Books

3 ulæste

/ 3

unohoo

,

december

2006
This is a feature balloon