Roleplayers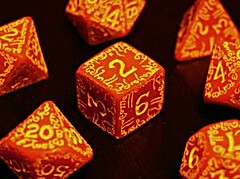 Denne gruppe er en hvilende gruppe. Det sker når en gruppe har været inaktiv længe.
Hvis du vil puste liv i gruppe igen eller oprette en ny gruppe med samme emne, så se først denne side.
You read roleplaying rulebooks and sourcebooks from cover to cover. You read tie-in fiction. You read fantasy, horror, science fiction, history, true crime and conspiracy theories to give you fodder for your campaign. You are a roleplayer, not an electronic gamer or a card flipper. Roleplayer, participant in a creative artform involving many, many books.

So, what's your favorite system and setting?
Emne

Emne

Kommentarer

Seneste Meddelelse

Welcome

15 ulæste

/ 15

gnatdbug

,

september

2014
How do you cataloge your books?

4 ulæste

/ 4

BruceCoulson

,

juli

2014
Bringing newcomers into the hobby

1 ulæst

/ 1

erikschmidt

,

juli

2013
BESM D20?

1 ulæst

/ 1

Oryphany

,

marts

2013
What Do You Game?

25 ulæste

/ 25

ghilbrae

,

januar

2013
Anyone interested in post-apocalpyse RPGs?

5 ulæste

/ 5

Oryphany

,

december

2012
Most popular RPGs on LibraryThing by corebook

12 ulæste

/ 12

emmatheknight

,

august

2012
Props!

4 ulæste

/ 4

MarkAlexander

,

januar

2012
Gamers in Switzerland

3 ulæste

/ 3

fvenez

,

juni

2011
Continuum 2012

1 ulæst

/ 1

MarkAlexander

,

maj

2011
Second Age Glorantha (Runequest 2)

5 ulæste

/ 5

erikschmidt

,

maj

2011
When do you game?

13 ulæste

/ 13

drwho

,

januar

2011
Dragonmeet

1 ulæst

/ 1

MarkAlexander

,

november

2010
Pendragon (1st Edition) (Chaosium)

1 ulæst

/ 1

cosmicdolphin

,

juli

2010
Classic Traveller Scenario Recommendations

8 ulæste

/ 8

bibliorex

,

marts

2010
EABA

1 ulæst

/ 1

prosfilaes

,

marts

2010
D&D 4th Edition

3 ulæste

/ 3

SentryLerb

,

januar

2010
Your favorite character

6 ulæste

/ 6

drwho

,

december

2009
Reviews

20 ulæste

/ 20

StormRaven

,

juni

2009
Where do you game?

6 ulæste

/ 6

WhisperedDreams

,

maj

2009
A new year, and more games to be played...

1 ulæst

/ 1

SentryLerb

,

januar

2009
This is a feature balloon