Antiquarian Books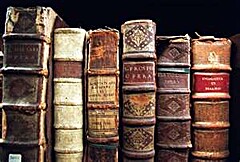 Denne gruppe er en hvilende gruppe. Det sker når en gruppe har været inaktiv længe.
Hvis du vil puste liv i gruppe igen eller oprette en ny gruppe med samme emne, så se først denne side.
People who enjoy books most readily accessed through the catalog lists of Antiquarian Booksellers Association of America, but even more so if they are stacked in piles in barns. Genealogy, local history, pamphlets, multi-volume sets, descriptive bibliography, textual criticism, rare and out of print books.
Emne

Emne

Kommentarer

Seneste Meddelelse

Carnegie Library archivist and rare book dealer are charged in book thefts

5 ulæste

/ 5

jfclark

,

januar

2020
More archive theft...

4 ulæste

/ 4

Crypto-Willobie

,

november

2019
Message Board

5 ulæste

/ 5

varielle

,

oktober

2018
John Carter's ABC for Book Collectors is now available on line - FREE!

8 ulæste

/ 8

Keeline

,

januar

2015
The gentle invasion

2 ulæste

/ 2

Lyndatrue

,

juli

2014
Bibliophile Brand Ambassador

1 ulæst

/ 1

rplevee

,

januar

2014
Could Mark Twain be the father of modern day Scrapbooking?

3 ulæste

/ 3

YeomansintheFork

,

juli

2012
Please consider helping us be considered for a $250K for the love of books and book lovers.

1 ulæst

/ 1

ijkahn

,

juni

2012
Do you have any books or maps in your library from the 1600-1700's?

14 ulæste

/ 14

Theunissen

,

januar

2012
Antiquarian books personal collection database

9 ulæste

/ 9

dyarington

,

december

2011
Worth of Books

10 ulæste

/ 10

dyarington

,

december

2011
Antiquarian Book Stores

5 ulæste

/ 5

lilithcat

,

september

2011
A musical about rare book dealers!

5 ulæste

/ 5

dyarington

,

januar

2011
Favourite early book and why?

11 ulæste

/ 11

cbellia

,

oktober

2010
Thomas Jefferson's Anonymous Translation of [Ruins of Empires] by [[Volney]]

3 ulæste

/ 3

ThomasCWilliams

,

april

2009
Points of Issue

3 ulæste

/ 3

TheaMak

,

januar

2008
Bookbinding advice

3 ulæste

/ 3

PhilOPosia

,

marts

2007
www.ilab-lila.com

2 ulæste

/ 2

fairbrook

,

november

2006
This is a feature balloon