Reviews reviewed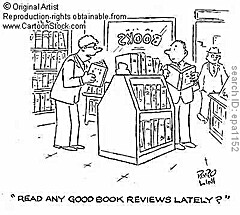 Denne gruppe er en hvilende gruppe. Det sker når en gruppe har været inaktiv længe.
Hvis du vil puste liv i gruppe igen eller oprette en ny gruppe med samme emne, så se først denne side.
If you have written reviews and would like to give and receive hints for improvement, join this group. Only members can post comments.

We focus on the review rather than the reviewed book, on the language of the review rather than the reviewer's opinions. Among other things, this is a place you can try out, polish and refine your review before or after posting it.

To keep things tidy, when you start discussion of a review you should start a new thread for that review, unless you have a good reason not to.

If you want to discuss the merits of a review or the reviewed book, you might like the Review Discussions group. If you want to discuss the reviewing process and the philosophy of reviewing, try Book reviewers.
Emne

Emne

Kommentarer

Seneste Meddelelse

Help. How can I improve my reviews? Here's a sample.

2 ulæste

/ 2

lilithcat

,

juli

2014
my review for 9.0 and beyond !

1 ulæst

/ 1

sanika_dabholkar

,

oktober

2013
Fatal Revenant by Stephen R. Donaldson

5 ulæste

/ 5

Nodosaurus

,

oktober

2013
The bald-headed hermit and the artichoke reviewed by TLCrawford

4 ulæste

/ 4

Africansky1

,

juli

2013
the Churchills In Love and War

1 ulæst

/ 1

Africansky1

,

maj

2013
The art of the Steal-

6 ulæste

/ 6

VivienneR

,

maj

2013
Magpies, Squirrels and Thieves

1 ulæst

/ 1

Africansky1

,

maj

2013
Plagiarism Alert & *** Profiles Profiled and Reviewed Group ***

1 ulæst

/ 1

bookblotter

,

april

2013
Founding Father: Rediscovering George Washington by Richard Brookisher - reviewed by Samantha_kathy

5 ulæste

/ 5

Samantha_kathy

,

december

2012
London Underground (fiction) by Chris Angus

5 ulæste

/ 5

readafew

,

december

2012
Introduction to mathematical thinking

2 ulæste

/ 2

VivienneR

,

oktober

2012
Snare by K Kerr - reviewed by reading_fox

2 ulæste

/ 2

jimroberts

,

september

2012
Train Dreams by Denis Johnson

1 ulæst

/ 1

TheTwoDs

,

juli

2012
Cosmopolis by Don DeLillo

1 ulæst

/ 1

TheTwoDs

,

juli

2012
The Mexican Saga: a poetic journey through the 20-count by Elaine Stirling

8 ulæste

/ 8

dekesolomon

,

juni

2012
Gettysburg, by Newt Gingrich and William R. Forstchen

7 ulæste

/ 7

dekesolomon

,

juni

2012
The Runes of the Earth by Stephen R. Donaldson

3 ulæste

/ 3

Nodosaurus

,

marts

2012
Rick Meyer's For One Week Only: The World of Exploitation Films reviewed by jseger9000

7 ulæste

/ 7

VivienneR

,

oktober

2011
Carlo Collodi's Pinocchio, reviewed by jseger9000

11 ulæste

/ 11

tedsdog

,

oktober

2011
Stephen King's Insomnia reviewed by jseger9000

3 ulæste

/ 3

jseger9000

,

oktober

2011
Bloodlines by Richelle Mead Review

6 ulæste

/ 6

jseger9000

,

september

2011
Hard Spell by Justin Gustainis (reviewed by readafew)

5 ulæste

/ 5

readafew

,

september

2011
[Heads You Lose] by [Lisa Lutz]

10 ulæste

/ 10

Nodosaurus

,

september

2011
Michael Howe's Trident Force reviewed by jseger9000

6 ulæste

/ 6

readafew

,

august

2011
The Devil Colony by James Rollins (reviewed by readafew)

6 ulæste

/ 6

readafew

,

juli

2011
J.R.R. Tolkien's The Hobbit reviewed by jseger9000

4 ulæste

/ 4

TLCrawford

,

juli

2011
State of the Onion by Julie Hyzy (reviewed by Samantha_kathy)

6 ulæste

/ 6

Samantha_kathy

,

juli

2011
Desert Ice Daddy by Dana Marton (reviewed by Samantha_kathy)

4 ulæste

/ 4

Samantha_kathy

,

juli

2011
Soldier of Rome: Legionary by James Mace (reviewed by readafew)

10 ulæste

/ 10

readafew

,

juli

2011
Mel Odom's Sooner Dead reviewed by jseger9000

5 ulæste

/ 5

readafew

,

juli

2011
Stephen King's The Waste Lands reviewed by jseger9000

6 ulæste

/ 6

VivienneR

,

juli

2011
The Ranger by Ace Atkins (reveiewed by readafew)

5 ulæste

/ 5

readafew

,

juli

2011
Introduction to Ecological Genomics by Nico van Straalen and Dick Roelofs (reviewed by Samantha_kath

11 ulæste

/ 11

jimroberts

,

juli

2011
Heaven Cent by Piers Anthony, reviewed by jimroberts

5 ulæste

/ 5

jimroberts

,

juni

2011
Golem in the Gears by Piers Anthony, review by jimroberts

9 ulæste

/ 9

readafew

,

juni

2011
Carrie Bebris' Pool of Radiance: The Ruins of Myth Drannor reviewed by jseger9000

3 ulæste

/ 3

jseger9000

,

juni

2011
Phantastes & Lilith by George MacDonald (reviewd by lilyfyrestorm)

12 ulæste

/ 12

EmScape

,

juni

2011
The President's Vampire by Christopher Farnsworth (reviewed by readafew)

5 ulæste

/ 5

readafew

,

juni

2011
Accidental Genius of Weasel High by Rick Detorie (reviewed by readafew)

8 ulæste

/ 8

jseger9000

,

juni

2011
A Comedian Dies, by Simon Brett: rev. jimroberts

6 ulæste

/ 6

jimroberts

,

juni

2011
Peter Pavia's Dutch Uncle reviewed by jseger900

5 ulæste

/ 5

jimroberts

,

maj

2011
"Manly Art," by George Kimball

3 ulæste

/ 3

jseger9000

,

maj

2011
The Road to Rome by Ben Kane (reviewed by readafew)

7 ulæste

/ 7

jseger9000

,

maj

2011
Frank Herbert's Hellstrom's Hive reviewed by jseger9000

6 ulæste

/ 6

jseger9000

,

maj

2011
Troubletwisters by Garth Nix (reviewed by readafew)

10 ulæste

/ 10

Jenni_Canuck

,

maj

2011
The Blessing Way by Tony Hillerman - reviewed by Samantha_kathy

5 ulæste

/ 5

jseger9000

,

maj

2011
Beowulf by Caitlin Kiernan - reviewed by Samantha_kathy

8 ulæste

/ 8

jseger9000

,

april

2011
Eric Van Lustbader's Sunset Warrior

4 ulæste

/ 4

readafew

,

april

2011
Zero Day by Mark Russinovich (reviewed by readafew)

7 ulæste

/ 7

readafew

,

april

2011
Pride and Prejudice and Zombies - Dawn of the Dreadfuls by Steve Hockensmith (reviewed by kittyNoel

4 ulæste

/ 4

kittyNoel

,

april

2011
Naming the Bones, by Loiuse Welsh - Reading_fox's review

5 ulæste

/ 5

jseger9000

,

april

2011
A Lonely Death by Charles Todd (reviewed by readafew)

8 ulæste

/ 8

readafew

,

april

2011
One of Our Thursdays is Missing by Jasper Fforde (reviewed by readafew)

13 ulæste

/ 13

readafew

,

april

2011
Any Witch Way by Annastaysia Savage (Early Review) - reviewed by Samantha_kathy

4 ulæste

/ 4

Samantha_kathy

,

april

2011
Charles G. West's Luke's Gold reviewed by jseger9000

3 ulæste

/ 3

jseger9000

,

april

2011
Stephen King's Needful Things reviewed by jseger9000

7 ulæste

/ 7

Samantha_kathy

,

marts

2011
Alle Wegen Naar Rome (All Roads To Rome) by Jan Blokker Jr. - reviewed by Samantha_kathy

6 ulæste

/ 6

Samantha_kathy

,

marts

2011
Grace Metalious' Peyton Place, reviewed by jseger9000

10 ulæste

/ 10

Samantha_kathy

,

marts

2011
Cleopatra by C.M. Franzero, as reviewed by Samantha_kathy

5 ulæste

/ 5

Samantha_kathy

,

marts

2011
The Gay Talese Reader reviewed by jseger9000

18 ulæste

/ 18

Jenni_Canuck

,

marts

2011
'Where Do We Go From Here? Book 2' edited by Isaac Asimov

4 ulæste

/ 4

jseger9000

,

februar

2011
The Secret History of Elizabeth Tudor, Vampire Slayer by Lucy Weston (reviewed by readafew)

14 ulæste

/ 14

readafew

,

februar

2011
The Kensei by Jon F. Merz (reviewed by readafew)

6 ulæste

/ 6

readafew

,

februar

2011
Nice job on the group picture

3 ulæste

/ 3

jseger9000

,

februar

2011
Kim Newman's Orgy of the Blood Parasites reviewed by jseger9000

13 ulæste

/ 13

readafew

,

februar

2011
The Trinity Six by Charles Cumming (reviewed by readafew)

7 ulæste

/ 7

readafew

,

februar

2011
The Lost Hero by Rick Riordan (reviewed by Samantha_kathy)

3 ulæste

/ 3

Jenni_Canuck

,

januar

2011
The Shadow of the Wind by Carlos Ruiz Zafón

5 ulæste

/ 5

Nodosaurus

,

januar

2011
Progeny by R T Kaelin (reviewed by readafew)

10 ulæste

/ 10

readafew

,

januar

2011
The Amazing Mrs. Pollifax by Dorothy Gilman (reviewed by Samantha_kathy)

10 ulæste

/ 10

Samantha_kathy

,

januar

2011
The Unexpected Mrs. Pollifax by Dorothy Gilman (reviewed by Samantha_kathy)

7 ulæste

/ 7

Samantha_kathy

,

januar

2011
God's Spy by Juan Gomez-Jurado (reviewed by Samantha_kathy)

8 ulæste

/ 8

Samantha_kathy

,

januar

2011
Luxembourg and The Jenisch Connection by David Robinson (reviewed by Samantha_kathy)

6 ulæste

/ 6

Samantha_kathy

,

januar

2011
Hell's Corner by David Baldacci (reviewed by readafew)

8 ulæste

/ 8

readafew

,

januar

2011
Poul Anderson's Brain Wave reviewed by jseger9000

11 ulæste

/ 11

readafew

,

januar

2011
Charles Dickens' A Christmas Carol reviewed by jseger9000

6 ulæste

/ 6

jimroberts

,

januar

2011
'Termination Dust' by "Sue Henry"

5 ulæste

/ 5

Nodosaurus

,

januar

2011
Anthony Zuiker's Level 26: Dark Origins reviewed by jseger9000

1 ulæst

/ 1

jseger9000

,

december

2010
End of the World Club by J & P Voelkel (reviewed by readafew)

13 ulæste

/ 13

readafew

,

december

2010
Elements of Mystery Fiction by William G. Tapply, reviewed by Samantha_kathy

10 ulæste

/ 10

Samantha_kathy

,

december

2010
The Widow and the Parrot by Virginia Woolf (reviewed by VivienneR)

13 ulæste

/ 13

Samantha_kathy

,

december

2010
Paul Gallico's Ludmilla, reviewed by Samantha_kathy

9 ulæste

/ 9

Samantha_kathy

,

december

2010
John Lutz' The Night Spider reviewed by jseger9000

6 ulæste

/ 6

Samantha_kathy

,

december

2010
The Runaway Quilt by Jennifer Chiaverini (reviewed by Samantha_kathy)

4 ulæste

/ 4

jseger9000

,

december

2010
Star Wars: A Scanimation Book by Rufus Butler Seder (reviewed by readafew)

7 ulæste

/ 7

readafew

,

december

2010
David Robbins' Blood Feud reviewed by jseger9000

5 ulæste

/ 5

VivienneR

,

december

2010
The Best of Weird Tales reviewed by jseger9000

12 ulæste

/ 12

jseger9000

,

november

2010
Stephen King's The Gunslinger reviewed by jseger9000

10 ulæste

/ 10

VivienneR

,

november

2010
Between a Roc and a Hard Place by Danny Birt (reviewed by readafew)

3 ulæste

/ 3

readafew

,

november

2010
The Death Instinct by Jed Rubenfeld (reviewed by VivienneR)

6 ulæste

/ 6

VivienneR

,

november

2010
City of the Gods by Patrick Garone (reviewed by readafew)

10 ulæste

/ 10

readafew

,

november

2010
Regenesis by CJ CHerryh - reading_fox's review

4 ulæste

/ 4

reading_fox

,

oktober

2010
Al Sarrantonio's Hallows Eve reviewed by jseger9000

5 ulæste

/ 5

VivienneR

,

oktober

2010
Douglas Clegg's The Halloween Man reviewed by jseger9000

8 ulæste

/ 8

VivienneR

,

oktober

2010
The Petting Zoo by Jim Carroll (reviewed by VivienneR)

6 ulæste

/ 6

VivienneR

,

oktober

2010
Renaissance, Van Gogt; jimroberts' review

16 ulæste

/ 16

jimroberts

,

oktober

2010
Candleshoe, Michael Innes; jimroberts' review

14 ulæste

/ 14

jimroberts

,

oktober

2010
Pray for Silence by Linda Catillo (reviewed by readafew)

8 ulæste

/ 8

readafew

,

oktober

2010
The Mammoth Book of Monsters reviewed by jseger9000

6 ulæste

/ 6

VivienneR

,

oktober

2010
An Autobiography, Agatha Christie - reading_fox's review

3 ulæste

/ 3

jseger9000

,

oktober

2010
This is a feature balloon