Radical History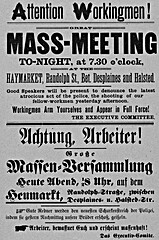 Denne gruppe er en hvilende gruppe. Det sker når en gruppe har været inaktiv længe.
Hvis du vil puste liv i gruppe igen eller oprette en ny gruppe med samme emne, så se først denne side.
Scholars, students, and enthusiasts of the history of radical and popular movements: Black Panthers, anarchism, labor history, Wobblies, Marxism, Communism, etc.
Emne

Emne

Kommentarer

Seneste Meddelelse

Calendar

3 ulæste

/ 3

JemmyHope

,

maj

2016
paris commune?

10 ulæste

/ 10

sweetdissident

,

november

2015
Librarians and Unions

5 ulæste

/ 5

JemmyHope

,

december

2014
Labor History LT Book List

2 ulæste

/ 2

TLCrawford

,

januar

2014
Nazi Book Burning...

6 ulæste

/ 6

Rood

,

januar

2014
Gore Vidal

1 ulæst

/ 1

JemmyHope

,

august

2012
The IRA

2 ulæste

/ 2

JemmyHope

,

januar

2012
Howard Zinn RIP

9 ulæste

/ 9

FrancoisTremblay

,

september

2011
Reading "Das Kapital"

5 ulæste

/ 5

royallthefourth

,

august

2011
Tagging Dilemma

2 ulæste

/ 2

TLCrawford

,

september

2010
Question

4 ulæste

/ 4

JemmyHope

,

juli

2010
marxist novels

12 ulæste

/ 12

znalo

,

april

2010
Can you help me?

16 ulæste

/ 16

Doug1943

,

juli

2009
shared works in radical history

12 ulæste

/ 12

asquonk

,

maj

2008
Robert Fitch

2 ulæste

/ 2

daschaich

,

april

2007
Message Board

1 ulæst

/ 1

nickhoonaloon

,

oktober

2006
Murray Bookchin RIP

1 ulæst

/ 1

lquilter

,

august

2006
This is a feature balloon