Photography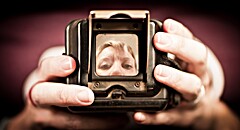 Denne gruppe er en hvilende gruppe. Det sker når en gruppe har været inaktiv længe.
If you want to revive this group, or create a new group on the same topic, see this page.
For members who enjoy reading, collecting, and browsing anything having to do with photography: technique, history, personalities.
Emne

Emne

Kommentarer

Seneste Meddelelse

Printing photos as Note Cards/Greeting Cards
5

ulæste

/ 5

gilroy

,

oktober

2020
Dutch Photobooks photo-eye's The Best Books of 2013 ...
1

ulæst

/ 1

bintphotobooks

,

januar

2014
Bint's Shortlist of Dutch Documentary Photography 2013 ...
1

ulæst

/ 1

bintphotobooks

,

februar

2013
Bücher über Photobücher Books about Photobooks
1

ulæst

/ 1

bintphotobooks

,

maj

2012
So you'd like to... 120 of the most significant Dutch photobooks the List
1

ulæst

/ 1

bintphotobooks

,

marts

2012
Ed van der Elsken and Eikoh Hosoe: A 30-Year Dialogue
1

ulæst

/ 1

bintphotobooks

,

januar

2012
the Best Dutch Photobooks of 2011 by Photo-Eye ...
1

ulæst

/ 1

bintphotobooks

,

december

2011
photo-eye is pleased to present the Best Books of 2011
1

ulæst

/ 1

bintphotobooks

,

december

2011
the Photobook of the Year 2011 Qaddafi's Condoleeza Rice Photo Album Photography ...
1

ulæst

/ 1

bintphotobooks

,

december

2011
Dutch Eyes in Deutschland im Fotobuch Photography ...
1

ulæst

/ 1

bintphotobooks

,

november

2011
Metropolis:­ City Life in the Urban Age Noorderlicht Photofestival 2011 Photography
1

ulæst

/ 1

bintphotobooks

,

september

2011
Catalogue Sommières 1961 by Johan van der Keuken Photography
1

ulæst

/ 1

bintphotobooks

,

august

2011
Affordable collectible Photobooks that are soaring in value Photography ...
1

ulæst

/ 1

bintphotobooks

,

juli

2011
Martin Parr's selection of the 30 most influential photobooks of the last decade Photography
1

ulæst

/ 1

bintphotobooks

,

juli

2011
Photographer Rineke Dijkstra Honorary Doctorate at the Royal College of Art
1

ulæst

/ 1

bintphotobooks

,

juli

2011
SPREAD -Graduation Photography Magazine ...
1

ulæst

/ 1

bintphotobooks

,

juli

2011
Miroslav Tichy (1926-2011) ...
2

ulæste

/ 2

chpaquette

,

april

2011
the Extended List of Company Photobooks by Mirelle Thijsen ...
1

ulæst

/ 1

bintphotobooks

,

februar

2011
Koen Wessing 1942 - 2011 Photographer of Chili September 1973 Photography
1

ulæst

/ 1

bintphotobooks

,

februar

2011
print your photos as postcards or business cards
1

ulæst

/ 1

sunny

,

februar

2011
Dutch Photobooks selected in Photo-Eye's Best Books of 2010 Photography ...
1

ulæst

/ 1

bintphotobooks

,

januar

2011
The art of photography by Bruce Barnbaum
1

ulæst

/ 1

sunny

,

december

2010
The Best and Most Useful Books about PhotoBooks!! ...
1

ulæst

/ 1

bintphotobooks

,

november

2010
a PhotoBook for Free ...
1

ulæst

/ 1

bintphotobooks

,

november

2010
HISTORY of PHOTOGRAPHY INDEX
1

ulæst

/ 1

jimiwo

,

november

2010
Collecting Modern Photobooks ...
1

ulæst

/ 1

bintphotobooks

,

oktober

2010
The 10 Most Collectible Photography Books of All Time ...
4

ulæste

/ 4

bintphotobooks

,

oktober

2010
For The Die-Hards: Vintage Photographs
2

ulæste

/ 2

celtic

,

maj

2010
Photography Magazines
3

ulæste

/ 3

fletch68

,

februar

2010
Objects of Desire the best Photobooks of the decade Martin Parr Gerry Badger Photography ...
4

ulæste

/ 4

bintphotobooks

,

februar

2010
Is Robert Frank's 'The Americans' the Best photobook? ...
3

ulæste

/ 3

mhtaylor

,

februar

2010
Saatchi Online DASH SNOW'S POLAROIDS ...
2

ulæste

/ 2

mhtaylor

,

februar

2010
Lisboa cidade triste e alegre number ONE for Best Books 2009 ...
1

ulæst

/ 1

bintphotobooks

,

januar

2010
Season's Greetings 2010 ...
1

ulæst

/ 1

bintphotobooks

,

december

2009
A Thought about Photo Books... by Joerg Colberg on December 4, 2009 ...
1

ulæst

/ 1

bintphotobooks

,

december

2009
the Mysterious Ways of Beauty in Photography Hans Aarsman ...
1

ulæst

/ 1

bintphotobooks

,

december

2009
ERIC MILES: Photography Book Collecting by ELIZABETH AVEDON ...
1

ulæst

/ 1

bintphotobooks

,

november

2009
Photo book blogs & websites
3

ulæste

/ 3

bintphotobooks

,

november

2009
Photography Books
23

ulæste

/ 23

plansea

,

november

2009
The Making of a Photobook: Sanne Sannes' Maquette for Diary of an Erotomaniac ...
1

ulæst

/ 1

bintphotobooks

,

november

2009
Irving Penn, Fashion Photographer, Is Dead at 92 Photography ...
1

ulæst

/ 1

bintphotobooks

,

oktober

2009
Documentary What Remains: The Life and Work of Sally Mann Photography ...
1

ulæst

/ 1

bintphotobooks

,

september

2009
Impression Noorderlicht Photofestival 2009 Human Conditions Photography ...
1

ulæst

/ 1

bintphotobooks

,

september

2009
Best books to read about photography for homeschooled 11th grader.
8

ulæste

/ 8

TeamYankeeKiwi

,

september

2009
Everything You Want To Know About Photography.
2

ulæste

/ 2

sunny

,

august

2009
New releases in the Books on Books series William Klein Yutaka Takanashi David Goldblatt Koen Wessin
1

ulæst

/ 1

bintphotobooks

,

august

2009
Art Review 'Dutch Seen' Photographic Links to Golden Age of Dutch Painting ...
1

ulæst

/ 1

bintphotobooks

,

august

2009
Dash Snow Polaroids found-image art Photography ...
1

ulæst

/ 1

bintphotobooks

,

august

2009
Photography and Imagination from the Netherlands & Belgium Beyond Photography ...
1

ulæst

/ 1

bintphotobooks

,

august

2009
Forthcoming Monographs: A Spring & Summer Preview ...
1

ulæst

/ 1

bintphotobooks

,

april

2009
The power of sepia - an expert's take on that Madonna image by Martin Parr ...
1

ulæst

/ 1

bintphotobooks

,

april

2009
Helen Levitt, New York City's Visual Poet Laureate, Has Died at the Age of 95 ...
1

ulæst

/ 1

bintphotobooks

,

marts

2009
How Does Photography Change Our Lives? How Has Photography Changed Your Life?
1

ulæst

/ 1

bintphotobooks

,

marts

2009
Do Men and Women Take Different Photos? ...
2

ulæste

/ 2

maggie1944

,

marts

2009
Dutch Eyes in Fotografía Pública. Photography in Print 1919-1939...
1

ulæst

/ 1

bintphotobooks

,

marts

2009
Make Love not War in Suite 902 Amsterdam Hilton ...
1

ulæst

/ 1

bintphotobooks

,

februar

2009
World Press Photo of the Year 2008...
1

ulæst

/ 1

bintphotobooks

,

februar

2009
Hidden Depths : Jacques Henri Lartigue en stéréoscopie ...
1

ulæst

/ 1

bintphotobooks

,

februar

2009
Our 50 Favourite Photo Sites, Articles and News of 2008 ...
1

ulæst

/ 1

bintphotobooks

,

februar

2009
Reading the Modern Photography Book: Changing Perceptions ...
1

ulæst

/ 1

bintphotobooks

,

februar

2009
Gerard Fieret 1924 - 2009 Photographer ...
1

ulæst

/ 1

bintphotobooks

,

januar

2009
An Interview with Daile Kaplan of Swann Auction Galleries on Collecting 20th Century Photographs ...
1

ulæst

/ 1

bintphotobooks

,

januar

2009
Snappy new year: photography books for 2009 ...
1

ulæst

/ 1

bintphotobooks

,

januar

2009
photo-eye's Best Books of 2008 ...
2

ulæste

/ 2

bintphotobooks

,

januar

2009
50 Photography Must Read Books ...
1

ulæst

/ 1

bintphotobooks

,

december

2008
Document Nederland: Rising Waters Marnix Goossens photographs Dutch ways to keep it dry.
2

ulæste

/ 2

bintphotobooks

,

december

2008
low budget shooting
1

ulæst

/ 1

sunny

,

december

2008
the best PhotoBooks of 2008 by 5B4 ....
1

ulæst

/ 1

bintphotobooks

,

december

2008
On the road with Robert Frank the Americans ...
1

ulæst

/ 1

bintphotobooks

,

december

2008
The Last Days of Shishmaref by Dana Lixenberg ...
1

ulæst

/ 1

bintphotobooks

,

december

2008
101 Billionaires by photography Rob Hornstra
2

ulæste

/ 2

bintphotobooks

,

december

2008
The Times Photobooks for Christmas 2008 ..
1

ulæst

/ 1

bintphotobooks

,

december

2008
the Nostalgia Medium Polaroid Photography ...
1

ulæst

/ 1

bintphotobooks

,

december

2008
Christmas books: photography ...
1

ulæst

/ 1

bintphotobooks

,

december

2008
Back to the PUNK years Paradiso Amsterdam ...
1

ulæst

/ 1

bintphotobooks

,

november

2008
Wear Good Shoes: Advice to young photographers by Alec Soth
3

ulæste

/ 3

AsYouKnow_Bob

,

november

2008
panoramio
1

ulæst

/ 1

sunny

,

november

2008
pdn has announced their list of Best Photography Books of 2008.
1

ulæst

/ 1

bintphotobooks

,

november

2008
Desirée Dolron Erwin Olaf Wijnanda Deroo Auction Christie's Amsterdam Photography december 2 2008
1

ulæst

/ 1

bintphotobooks

,

november

2008
name this book : photographs of contents of home on lawn
3

ulæste

/ 3

cbrigante

,

oktober

2008
Toy cameras?
18

ulæste

/ 18

reellis67

,

oktober

2008
Links to our photo collections
43

ulæste

/ 43

Macophile

,

oktober

2008
Photographer is an artist
8

ulæste

/ 8

ldallara

,

juni

2008
"save polaroid" movement
3

ulæste

/ 3

terriks

,

marts

2008
2007 Best picture
11

ulæste

/ 11

terriks

,

februar

2008
Your Invited...
1

ulæst

/ 1

fletch68

,

januar

2008
What equipment do you use/Recommend?
38

ulæste

/ 38

terriks

,

oktober

2007
bleg: photographing houses
5

ulæste

/ 5

dpbrewster

,

januar

2007
Photography Message Board
16

ulæste

/ 16

reellis67

,

august

2006
This is a feature balloon