Japanese Culture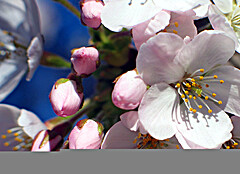 Denne gruppe er en hvilende gruppe. Det sker når en gruppe har været inaktiv længe.
Hvis du vil puste liv i gruppe igen eller oprette en ny gruppe med samme emne, så se først denne side.
For those who appreciate Japanese culture, arts, and language. If you'd like to swap information on books about Japan, please do!

My own enthusiasms include the Way of Tea (a.k.a. Chanoyu or "tea ceremony"), kimono, incense, tetsubin collecting, Japanese design, and language study - but all interests are welcome. Please pull up a zabuton and share what you love about Japan.

By the way, I'm accepting nominations for a better picture! I'm using this one for now because I actually took the photo (therefore, no copyright issues). If anyone would like to suggest something else, I'm all mimi.
Emne

Emne

Kommentarer

Seneste Meddelelse

movies for studying Japanese language

4 ulæste

/ 4

susieimage

,

juli

2017
Precarious Japan

3 ulæste

/ 3

susieimage

,

juli

2017
The Tale of Genji

13 ulæste

/ 13

xiaolin

,

december

2014
Yuzu Nembutsu sect of Pure Land Buddhism?

1 ulæst

/ 1

Caco_Velho

,

februar

2013
[Ningen no jōken] 人間の條件

4 ulæste

/ 4

tros

,

juli

2012
Koakuma Ageha Magazine

2 ulæste

/ 2

dcozy

,

marts

2012
Japan and Christianity

19 ulæste

/ 19

EustaciaTan

,

februar

2012
Minamata Disease

1 ulæst

/ 1

EustaciaTan

,

januar

2012
Japanese Self-Instruction

27 ulæste

/ 27

roulette.russe

,

december

2011
Japanese Mythology / Bakeneko

9 ulæste

/ 9

Fogies

,

november

2011
Crazy for Kanji opinions?

1 ulæst

/ 1

EustaciaTan

,

oktober

2011
Very Interesting Reference Site

1 ulæst

/ 1

marq

,

september

2011
magick in japanese literature

2 ulæste

/ 2

Fogies

,

september

2011
Japanese Language Meet-up Groups

1 ulæst

/ 1

susieimage

,

august

2011
After School Nightmare

11 ulæste

/ 11

C4RO

,

juni

2011
Hikikomori

19 ulæste

/ 19

ACGalaga

,

juni

2011
"Bad" Girls of Japan

1 ulæst

/ 1

susieimage

,

juni

2011
Antique and vintage Japanese photographs

14 ulæste

/ 14

susieimage

,

juni

2011
tsunami stone

8 ulæste

/ 8

Yamanekotei

,

juni

2011
Haruki Murakami

16 ulæste

/ 16

dcozy

,

juni

2011
butoh

6 ulæste

/ 6

lilisin

,

juni

2011
Reggae 4 Japan Concert

1 ulæst

/ 1

susieimage

,

juni

2011
Donald Keene has retired.

5 ulæste

/ 5

yomisugi

,

maj

2011
"Learning to Bow"

3 ulæste

/ 3

susieimage

,

april

2011
tea ceremony

3 ulæste

/ 3

Rood

,

marts

2011
2011 Sendai Earthquake

1 ulæst

/ 1

Cecrow

,

marts

2011
Manga

12 ulæste

/ 12

susieimage

,

marts

2011
Favorite 20th century Japanese novel

2 ulæste

/ 2

ACGalaga

,

marts

2011
The book arrived!

3 ulæste

/ 3

susieimage

,

marts

2011
Nihongo

15 ulæste

/ 15

ACGalaga

,

marts

2011
Reggae in Japan

1 ulæst

/ 1

susieimage

,

marts

2011
Japanese Mythology

13 ulæste

/ 13

PhoenixTerran

,

januar

2011
Dead forum? Beginning readers advice & a question

14 ulæste

/ 14

amysisson

,

oktober

2010
Bento Box/Japanese Lunch box

3 ulæste

/ 3

soniaandree

,

oktober

2010
Article 9 of the Japanese Constitution

2 ulæste

/ 2

Cecrow

,

juli

2010
Has anyone read?

1 ulæst

/ 1

MarkAlexander

,

juni

2010
Amélie Nothomb... What do you think of her views concerning Japan?

11 ulæste

/ 11

lilisin

,

februar

2010
"1Q84" by Murakami ... readers' comments wanted...

4 ulæste

/ 4

proximity1

,

februar

2010
Woman in the Dunes

3 ulæste

/ 3

doogiewray

,

februar

2010
Peter Carey's "Wrong About Japan"

6 ulæste

/ 6

keigu

,

februar

2010
"amae"

3 ulæste

/ 3

keigu

,

februar

2010
Manga

12 ulæste

/ 12

keigu

,

februar

2010
History of Japan, Overview

9 ulæste

/ 9

keigu

,

februar

2010
[[Nagai Kafû]] - Geisha in Rivalry

5 ulæste

/ 5

keigu

,

februar

2010
ikkyu

2 ulæste

/ 2

keigu

,

februar

2010
Japanese Music anyone?

13 ulæste

/ 13

keigu

,

februar

2010
What do you love most about Japan?

37 ulæste

/ 37

keigu

,

december

2009
What got you interested in Japanese culture?

20 ulæste

/ 20

C4RO

,

december

2009
Jun Ichikawa film - How To Become Myself

3 ulæste

/ 3

wandering_star

,

november

2009
Shogun / Samurai William

5 ulæste

/ 5

nobooksnolife

,

oktober

2009
POCKY

29 ulæste

/ 29

Ferdinand_

,

oktober

2009
Heian Japan and Poetic Diaries

6 ulæste

/ 6

IreneF

,

september

2009
an aspect of otaku culture

2 ulæste

/ 2

Cecrow

,

september

2009
Learning Japanese books wanted, and Manga on bookmooch

1 ulæst

/ 1

GreyGhost

,

august

2009
Various quirks, ironies, eccentricities, and contradictions of life in Japan (at least from the eyes

7 ulæste

/ 7

Chris469

,

juni

2009
Japanese Culture Message Board

56 ulæste

/ 56

keigu

,

juni

2009
Starting to read Japanese fiction, need pointers

20 ulæste

/ 20

unorna

,

juni

2009
Japanese for Finishers

10 ulæste

/ 10

keigu

,

juni

2009
A great blog

1 ulæst

/ 1

rl203

,

november

2008
Japanese Art Forms (anime, manga, music, food, etc.)

4 ulæste

/ 4

NicoleN

,

oktober

2008
The Cannery Boat by Takiji Kobayashi

16 ulæste

/ 16

Teacup_

,

september

2008
Graduating from Manga

5 ulæste

/ 5

mene

,

august

2008
Floating World in Japanese Fiction - I have a duplicate. Anyone want it?

6 ulæste

/ 6

sadxboyx28

,

juni

2008
wa tashi wa...

10 ulæste

/ 10

Lodhi

,

februar

2008
Onmyoji

2 ulæste

/ 2

MMcM

,

januar

2008
Japan for beginners

14 ulæste

/ 14

twacorbies

,

december

2007
japanese tutors?

3 ulæste

/ 3

ibudonna

,

december

2007
Japanese Cultural Narratives

15 ulæste

/ 15

WendyTokunaga

,

december

2007
Japanese language for kids----help!!

4 ulæste

/ 4

skoobdo

,

november

2007
Ozu and the Poetics of Cinema

3 ulæste

/ 3

existanai

,

oktober

2007
Japanese Literature

24 ulæste

/ 24

gscottmoore

,

september

2007
Five Centuries of Japanese Kimono - I have a duplicate. Anyone want it?

4 ulæste

/ 4

lilithcat

,

august

2007
Is "Train Man" really a true story?

2 ulæste

/ 2

Furu

,

august

2007
Disappearing Japanese covers from inventory

2 ulæste

/ 2

fleubis

,

juli

2007
Japan ISBN - English translation of information

3 ulæste

/ 3

troop683

,

juni

2007
Searching for books in Japanese

19 ulæste

/ 19

keigu

,

marts

2007
Books in English with Japanese in Them

1 ulæst

/ 1

keigu

,

februar

2007
studying LT members' use of tags

1 ulæst

/ 1

circadia

,

november

2006
Request to fix the Amazon Japan "ISBN bug"

6 ulæste

/ 6

chamekke

,

oktober

2006
Chadou, the Way of Tea

1 ulæst

/ 1

chamekke

,

september

2006
Looking for a forgotten book

2 ulæste

/ 2

chamekke

,

september

2006
Corrupted Japanese characters ... a fix is on the way!

5 ulæste

/ 5

chamekke

,

august

2006
Help! I can't see anyone else's topic

3 ulæste

/ 3

chamekke

,

august

2006
This is a feature balloon