75 Books Challenge for 2017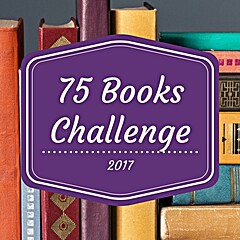 Denne gruppe er en hvilende gruppe. Det sker når en gruppe har været inaktiv længe.
If you want to revive this group, or create a new group on the same topic, see this page.
Anyone can join. Just start a thread and begin listing the books you have read in 2017. You don't have to begin on January 1! Last year, some members just listed their titles and authors while others posted a mini-review of each book. It's all up to you. It turns out we care less about the numbers than we do about the exchange of book info and the community of readers.

We hope you'll join us, but be forewarned. We like to comment on each other's threads and we've found our stacks of books to be read have grown exponentially!

Note: Please put your username in your thread title. This makes it much easier for folks to find you. Thanks!

New folks, start here: Welcome To New Friends

We use wiki pages to keep track of useful stuff. The group wikis:

- 75er's Wiki - Here's where we keep links to our important threads!

- 2017 Threadbook - Looking for someone's thread? Try here!
Emne

Emne

Kommentarer

Seneste Meddelelse

meanderer-ing through 2017
51

ulæste

/ 51

meanderer

,

december

2020
The Black Stallion Series Relaxed Shared Read Thread
81

ulæste

/ 81

fuzzi

,

oktober

2020
Group read: He Knew He Was Right by Anthony Trollope
104

ulæste

/ 104

Matke

,

oktober

2020
Alchemy of Love Mindfulness Training Books
7

ulæste

/ 7

JadrankaCuculovic

,

september

2019
Group Read: Rules of Civility
46

ulæste

/ 46

Diane-bpcb

,

april

2019
Maggie1944, aka Karen, 2017 page 2
215

ulæste

/ 215

benitastrnad

,

januar

2019
Paul C's 2017 Reading & Life - 33
283

ulæste

/ 283

fuzzi

,

august

2018
Take It Or Leave It Challenge - September 2017 - Page 1
161

ulæste

/ 161

biodiplomacy

,

juni

2018
eclecticdodo's (Jo's) 2017 challenge
216

ulæste

/ 216

eclecticdodo

,

april

2018
In Memoriam
98

ulæste

/ 98

jessibud2

,

marts

2018
American Author Challenge 2017: General Discussion
171

ulæste

/ 171

laytonwoman3rd

,

marts

2018
The Master and Margarita - Group Read
67

ulæste

/ 67

Guanhumara

,

februar

2018
lit_chick's 2017 Reading (4)
154

ulæste

/ 154

mdoris

,

februar

2018
Rachel (aktakukac) Reads in 2017 (Part 2)
210

ulæste

/ 210

aktakukac

,

januar

2018
Farewell, My Lovely BBC mstrust's #8
190

ulæste

/ 190

mstrust

,

januar

2018
Cammykitty's May/June 75ers
107

ulæste

/ 107

cammykitty

,

januar

2018
The Vegetarian, by Han Kang- Group Read
31

ulæste

/ 31

Cynfelyn

,

januar

2018
souloftherose's 2017 books and more - thread 3
189

ulæste

/ 189

souloftherose

,

januar

2018
In Memory of Ellie Moses (mirrordrum)
34

ulæste

/ 34

jnwelch

,

januar

2018
AlcottAcre Returns to the Fold, Thread Three
328

ulæste

/ 328

alcottacre

,

januar

2018
BJ reads 75 books
30

ulæste

/ 30

billiejean

,

januar

2018
75 Books Challenge for 2017
127

ulæste

/ 127

evilmoose

,

januar

2018
Ursula's Mobile Thread for 2017, Part 4
67

ulæste

/ 67

sirfurboy

,

januar

2018
calm reading 75 and beyond in 2017
169

ulæste

/ 169

calm

,

januar

2018
BGP 2017 (Marxism/Socialism, History, Sci-Fi...& a Little Bit of Everything Else)
60

ulæste

/ 60

BGP

,

januar

2018
lkernagh (Lori) Gets Crafty in 2017 - Fourth Thread
195

ulæste

/ 195

Carmenere

,

januar

2018
Christmas Swap 2017
199

ulæste

/ 199

benitastrnad

,

januar

2018
Sir Furboy's 75 Books in 2017 - Part 5
54

ulæste

/ 54

ronincats

,

januar

2018
Curmudgeonly Steve (scvlad)
73

ulæste

/ 73

scvlad

,

januar

2018
Genny's attempting to return
51

ulæste

/ 51

drneutron

,

januar

2018
LSG's 2017 challenge
42

ulæste

/ 42

lsg

,

januar

2018
cindystark - and the nightstand is still full.....
62

ulæste

/ 62

cindystark

,

januar

2018
LeahBird's List of Books (Probably Listened to in the Car) in 2017!
97

ulæste

/ 97

leahbird

,

januar

2018
bluesalamanders 2017
119

ulæste

/ 119

bluesalamanders

,

januar

2018
DianeKeenoy Books and Things in 2017 - Part 2
232

ulæste

/ 232

johnsimpson

,

januar

2018
DianaNL reads - Part 4
176

ulæste

/ 176

humouress

,

januar

2018
Cheli's 75 book Challenge for 2017
139

ulæste

/ 139

cyderry

,

januar

2018
Lunacat is reading and gardening in 2017 (5)
306

ulæste

/ 306

mstrust

,

januar

2018
Tjblue's 75 Books in 2017
39

ulæste

/ 39

tjblue

,

januar

2018
vancouverdeb reading for 2017 Thread #5
258

ulæste

/ 258

vancouverdeb

,

januar

2018
ANZAC Reading Challenge 2017
119

ulæste

/ 119

HelenBaker

,

januar

2018
The Hibernator's Last Thread
72

ulæste

/ 72

humouress

,

januar

2018
jessibud2 - Late to the Party... #5
314

ulæste

/ 314

SqueakyChu

,

januar

2018
foggidawn reads in 2017, thread 4
146

ulæste

/ 146

foggidawn

,

januar

2018
Chelle tries to keep up in 2017 (take 6)
238

ulæste

/ 238

johnsimpson

,

januar

2018
Ernest Hemingway: American Author Challenge
53

ulæste

/ 53

banjo123

,

januar

2018
The 2017 Nonfiction Challenge Part XII: Go Out of Your Comfort Zone, Chase a Book Bullet or Find a 2017 Book in December
62

ulæste

/ 62

banjo123

,

januar

2018
David (tapestry100)'s 75(?) 2017 Thread the First
173

ulæste

/ 173

tapestry100

,

januar

2018
Robin (rretzler) Reads in '17 - #4
93

ulæste

/ 93

humouress

,

januar

2018
Katie K's 2017 Book of Books (and Shenanigans and Beverages and Friends) - Chapter 17
239

ulæste

/ 239

katiekrug

,

januar

2018
swynn gets back to the DAWs in 2017 -- 3d thread
219

ulæste

/ 219

swynn

,

januar

2018
Two Giudo's - Brunetti and Guerrieri - Mystery Read-Along - Organizational Thread
21

ulæste

/ 21

tymfos

,

januar

2018
DFED in 2017...What to Read Next??
57

ulæste

/ 57

DFED

,

januar

2018
Beth's Books in 2017 - Part 7 - End of the Year
205

ulæste

/ 205

BLBera

,

januar

2018
Sibyx's 2017 Reading Rambles: Autumn Equinox to the New Year
251

ulæste

/ 251

sibylline

,

januar

2018
Hangerg will Be the Change She Wants to See in 2017!
69

ulæste

/ 69

HanGerg

,

januar

2018
Donna828's Autumn Reading: Ch. 5
245

ulæste

/ 245

Donna828

,

januar

2018
BookLizard's 75 in 2017 Challenge . . . continued
30

ulæste

/ 30

drneutron

,

januar

2018
alsvidur's 2017 list
66

ulæste

/ 66

alsvidur

,

januar

2018
Nittnut - Replanted and Blooming 2017 Part 6
132

ulæste

/ 132

ChelleBearss

,

januar

2018
Paul S' books and stuff in 2017 - 4 - Advent, a new beginning
62

ulæste

/ 62

souloftherose

,

januar

2018
JustJoey's Books etc. in 2017
155

ulæste

/ 155

ChelleBearss

,

januar

2018
RebaRelishesReading 2017 - part 5
169

ulæste

/ 169

ChelleBearss

,

januar

2018
Tafadhali's 75 Book Challenge for 2017!
19

ulæste

/ 19

Tafadhali

,

januar

2018
Norabelle414's Trilogy in Four Parts
108

ulæste

/ 108

norabelle414

,

januar

2018
Karen (karspeak) 2017
58

ulæste

/ 58

karspeak

,

januar

2018
Vestafan tries to be systematic!
17

ulæste

/ 17

vestafan

,

januar

2018
rosalita jumps a little higher in 2017: verse 11
233

ulæste

/ 233

rosalita

,

januar

2018
(Sir)Thomas reads in 2017 - the fifth year of fun
159

ulæste

/ 159

SirThomas

,

januar

2018
kac522's 2017 Reading
180

ulæste

/ 180

kac522

,

januar

2018
Carsten's (ctpress) 2017 - Take and Read - part 2
149

ulæste

/ 149

ctpress

,

januar

2018
Orange is not the only Penguin (book) - charl08 reads #14
282

ulæste

/ 282

charl08

,

januar

2018
SandDune Reads in 2017 - Part 4
200

ulæste

/ 200

SandDune

,

januar

2018
BRITISH AUTHOR CHALLENGE JULY 2017 - SCOTTISH AUTHORS / THE STEVENSONS
25

ulæste

/ 25

kac522

,

januar

2018
brodiew2's galaxy of books Door the 2nd
91

ulæste

/ 91

RBeffa

,

januar

2018
Ronincats targets Books off my own Shelves for 2017: Sector Eight
255

ulæste

/ 255

ronincats

,

januar

2018
majleavy's 2017 log
242

ulæste

/ 242

Berly

,

januar

2018
2017 * 4: Longbook LizzieD Reads Again! Hi Yo Kindle, Away!
252

ulæste

/ 252

LizzieD

,

januar

2018
karenmarie's 2017 reading and occasional other nonsense - lucky part 13
365

ulæste

/ 365

ChelleBearss

,

januar

2018
Cee: sailing into 2017 on a slight breeze
206

ulæste

/ 206

ChelleBearss

,

januar

2018
Morphy's Magical Manor - Part 2
347

ulæste

/ 347

ChelleBearss

,

januar

2018
Chatterbox Reads Omnivorously, and Fires Book Bullets Indiscriminately -- Part V
142

ulæste

/ 142

ChelleBearss

,

januar

2018
Richard's Thread for 2017 #3
407

ulæste

/ 407

ChelleBearss

,

januar

2018
Ellen reads in 2017 - Chapter 14
372

ulæste

/ 372

ChelleBearss

,

januar

2018
kath (mckait) 2017 Thread
179

ulæste

/ 179

ChelleBearss

,

januar

2018
Anne (AMQS) reads in 2017 - Chapter 3
174

ulæste

/ 174

ChelleBearss

,

januar

2018
Luxx's Haunted Halls
213

ulæste

/ 213

MickyFine

,

januar

2018
sjgoins
57

ulæste

/ 57

sjgoins

,

januar

2018
Bragging and Backslapping
40

ulæste

/ 40

Deedledee

,

januar

2018
Arubabookwoman Reads Her TBR In 20171
325

ulæste

/ 325

Berly

,

januar

2018
Tutu's Tepid Listing of Another year of Desultory Reading
70

ulæste

/ 70

Berly

,

januar

2018
ted74ca's Reading for 2017
79

ulæste

/ 79

ted74ca

,

januar

2018
Whisper1 (Linda) Thread #5 for 2017
91

ulæste

/ 91

Berly

,

januar

2018
Laytonwoman Will Finish the Year Here (Thread 4 for 2017)
252

ulæste

/ 252

laytonwoman3rd

,

januar

2018
Joe's Book Cafe Door 27
326

ulæste

/ 326

jnwelch

,

januar

2018
Joanne (coppers) Tries Again - 2017 #4
161

ulæste

/ 161

Copperskye

,

januar

2018
Terri (tymfos) continues her 2017 reading: 3rd thread
202

ulæste

/ 202

tymfos

,

januar

2018
lyzard's list: worshipping obscurity in 2017 - Part 8
400

ulæste

/ 400

lyzard

,

januar

2018
Kriti's (kgodey) 2017 reading
199

ulæste

/ 199

kgodey

,

januar

2018
Anita (FAMeulstee) reads on in December 2017 (13)
321

ulæste

/ 321

FAMeulstee

,

januar

2018
This is a feature balloon