Books Compared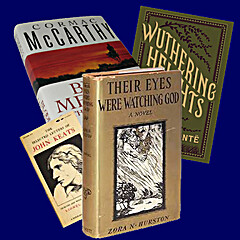 Denne gruppe er en hvilende gruppe. Det sker når en gruppe har været inaktiv længe.
Hvis du vil puste liv i gruppe igen eller oprette en ny gruppe med samme emne, så se først denne side.
Take reviewing a step further. Pick two books and compare them. Did you love one book and hate the other? Or love both despite (or because of) their differences? How was the subject matter similar? Did the authors come to radically different conclusions about the same topic? Were the subjects different but the authors' attitudes or styles intriguingly similar?
Emne

Emne

Kommentarer

Seneste Meddelelse

Slaughterhouse Five / Ode on a Grecian Urn

20 ulæste

/ 20

VLombardi

,

januar

2017
Orwellian vs. Kafkaesque

35 ulæste

/ 35

bluepiano

,

juni

2015
Old-Fashioned Biographical Novels

12 ulæste

/ 12

bluepiano

,

december

2014
The Book Thief and The Guernsey Litereary & Potato Peel Pie Society

4 ulæste

/ 4

TheWriteRoomPress

,

oktober

2013
Jane Eyre/Wuthering Heights

51 ulæste

/ 51

Nickelini

,

marts

2013
fredia kayo and janis joplin

5 ulæste

/ 5

berthirsch

,

februar

2013
The Mysteries of Udolpho & Twilight

4 ulæste

/ 4

2wonderY

,

november

2011
Dumbledore vs. Gandalf

2 ulæste

/ 2

reading_fox

,

november

2010
How to Compare and Contrast Two Books

3 ulæste

/ 3

KCato

,

august

2010
Wise Blood / End of the Affair

1 ulæst

/ 1

JimmyChanga

,

juli

2010
The Middle East: Novels

27 ulæste

/ 27

SigmundFraud

,

juni

2010
The Seven Habits of Highly Effective People / Moby Dick

5 ulæste

/ 5

slickdpdx

,

november

2009
Robert Bolano and Jack Kerouac

12 ulæste

/ 12

luxvk

,

juli

2009
Harry Potter/Wizard's Hall

16 ulæste

/ 16

mjreads

,

juli

2009
Villette/House of Mirth

2 ulæste

/ 2

margad

,

juli

2009
Girl,interrupted & One flew over the cuckoos nest

6 ulæste

/ 6

margad

,

juli

2009
Blood Meridian/The Road

29 ulæste

/ 29

berthirsch

,

juni

2009
Dystopian Literature

37 ulæste

/ 37

margad

,

juni

2009
A Handful of Dust / The Cherry Orchard

2 ulæste

/ 2

margad

,

juni

2009
A Virginia Woolf Trio

25 ulæste

/ 25

milprad

,

maj

2009
The Picture of Dorian Gray / Frankenstein

6 ulæste

/ 6

margad

,

marts

2009
House of Leaves/Moby Dick

17 ulæste

/ 17

margad

,

marts

2009
Hemingway and Le Carré (it rhymes!)

2 ulæste

/ 2

margad

,

januar

2009
Thomas de Quincey and Dickens

15 ulæste

/ 15

jwhenderson

,

december

2008
Alias Grace and the French Lieutenant's Woman

5 ulæste

/ 5

margad

,

juni

2008
Welcome New Members

1 ulæst

/ 1

margad

,

juni

2008
What are you reading?

8 ulæste

/ 8

margad

,

juni

2008
"The Double/Notes from the Underground" Dostoevsky

4 ulæste

/ 4

margad

,

maj

2008
Embers/Gilead

13 ulæste

/ 13

margad

,

maj

2008
Dean Koonts: Early and Late Works

3 ulæste

/ 3

margad

,

maj

2008
Migration - Banks/Levy

4 ulæste

/ 4

margad

,

april

2008
McCullough, Philbrick (...and a smattering of Larson)

9 ulæste

/ 9

Clueless

,

april

2008
Austen and Dickens

3 ulæste

/ 3

margad

,

marts

2008
Knight (Gene Wolfe) / Sword of Truth (Terry Goodkind)

3 ulæste

/ 3

lewispike

,

marts

2008
Diary/Rosemary´s Baby/"The Shadow over Innsmouth"

5 ulæste

/ 5

margad

,

marts

2008
Doctor Zhivago and Transit of Venus

9 ulæste

/ 9

islandgalcal

,

marts

2008
The POW Books, "The Special Prisoner" and "Day'

4 ulæste

/ 4

margad

,

marts

2008
The POW books, "The Special Prisoner" and "Day'

1 ulæst

/ 1

michaelbartley

,

marts

2008
The PO'

1 ulæst

/ 1

michaelbartley

,

marts

2008
His Majesty's Dragon (Naomi Novik) / Dragon Rider Series (Anne McCaffrey)

3 ulæste

/ 3

elbakerone

,

februar

2008
Journal of Curious Letters/Harry Potter

27 ulæste

/ 27

margad

,

februar

2008
Handmaid's Tale / Swallows of Kabul

4 ulæste

/ 4

PghDragonMan

,

februar

2008
The Quiet American / Bright Shining Lie

4 ulæste

/ 4

berthirsch

,

februar

2008
Small Introduction

25 ulæste

/ 25

margad

,

februar

2008
Kepler/Joan of Arc

12 ulæste

/ 12

margad

,

januar

2008
Hunger/The Arabian Nightmare

5 ulæste

/ 5

margad

,

januar

2008
On the modernistic in Argentine literature.

27 ulæste

/ 27

margad

,

januar

2008
Shakespeare and Dickens

8 ulæste

/ 8

MyLoveForAugustus

,

december

2007
City of Saints and Madmen / Viriconium

7 ulæste

/ 7

ragwaine

,

december

2007
Silence of the Lambs/Heartsick

1 ulæst

/ 1

margad

,

december

2007
Night / Man's Search for Meaning

6 ulæste

/ 6

maggie1944

,

december

2007
Jane Eyre/Wide Sargasso Sea

12 ulæste

/ 12

margad

,

december

2007
Lullaby/My Work is Not Yet Done

8 ulæste

/ 8

CarlosMcRey

,

november

2007
How to Talk About Books You Haven't Read

22 ulæste

/ 22

margad

,

november

2007
[A Thousand Splendid Suns] and [Grapes of Wrath]

2 ulæste

/ 2

margad

,

november

2007
Home Before Dark/Dream Catcher

2 ulæste

/ 2

margad

,

november

2007
Haunted/Hyperion/City of Saints and Madmen

8 ulæste

/ 8

margad

,

november

2007
Notes On Mao: Jung Chang and Jon Halliday: "Mao, the unknown story"/Phillip Short: "Mao, a life"

2 ulæste

/ 2

margad

,

oktober

2007
Lolita/Silence of the Lambs

38 ulæste

/ 38

margad

,

oktober

2007
The Sound of Waves / Their Eyes Were Watching God

28 ulæste

/ 28

keigu

,

oktober

2007
Ideas

16 ulæste

/ 16

keigu

,

oktober

2007
Crime and Punishment/Tell-Tale Heart/Picture of Dorian Gray

3 ulæste

/ 3

margad

,

oktober

2007
The groups ranking

7 ulæste

/ 7

margad

,

oktober

2007
Choke / Odd Thomas

2 ulæste

/ 2

margad

,

oktober

2007
Suttree/Tortilla Flat

16 ulæste

/ 16

rufustfirefly66

,

oktober

2007
Robber Brides & Grooms: Eudora Welty vs. Margaret Atwood

3 ulæste

/ 3

Nickelini

,

oktober

2007
'Flowers of Algernon' and 'The Curious Incident of the Dog in the Nighttime'

21 ulæste

/ 21

kiwidoc

,

oktober

2007
The Shining/Hour of the Wolf

4 ulæste

/ 4

margad

,

oktober

2007
The Dharma Bums/Siddhartha/Altered States/Teddy

6 ulæste

/ 6

berthirsch

,

oktober

2007
Dickens/Pasternak

19 ulæste

/ 19

margad

,

oktober

2007
Richard Brautigan / Theodore Roethke

9 ulæste

/ 9

TheresaWilliams

,

september

2007
Hurricanes/Catcher in the Rye

5 ulæste

/ 5

margad

,

august

2007
Anna Karenina / War and Peace

34 ulæste

/ 34

margad

,

august

2007
Remembrance of Things Past vs. In Search of Lost Time

4 ulæste

/ 4

jhevelin

,

august

2007
Dracula/The Woman in White

33 ulæste

/ 33

margad

,

juli

2007
The Dante Club/ The Poe Shadow

8 ulæste

/ 8

Bookmarque

,

juli

2007
Brave New World/ Oryx and Crake

11 ulæste

/ 11

Bookmarque

,

juli

2007
Harry Potter and Animorphs

2 ulæste

/ 2

margad

,

juli

2007
Iran

20 ulæste

/ 20

existanai

,

juli

2007
HP and TP

8 ulæste

/ 8

margad

,

juli

2007
Deer Hunting with Jesus: Dispatches from America's Class War / What's the Matter with Kansas

2 ulæste

/ 2

margad

,

juli

2007
Octavian Nothing / Northanger Abbey

8 ulæste

/ 8

margad

,

juli

2007
McEwan [Spoilers]

3 ulæste

/ 3

kiwidoc

,

maj

2007
World War II Novels - Pick two

27 ulæste

/ 27

writestuff

,

maj

2007
Austen and Bronte

6 ulæste

/ 6

margad

,

april

2007
Ishiguro/Ishiguro/Ishiguro/Ishiguro

18 ulæste

/ 18

emily_morine

,

april

2007
A Woman in Berlin/Gone With The Wind

27 ulæste

/ 27

Cateline

,

april

2007
Novels Compared

12 ulæste

/ 12

margad

,

april

2007
Farthing by Jo Walton and The Plot Against America by Philip Roth

9 ulæste

/ 9

geneg

,

april

2007
David Malouf

1 ulæst

/ 1

margad

,

april

2007
Russia in the Stalin years.

38 ulæste

/ 38

kencf0618

,

april

2007
Nabokov/Nabokov

17 ulæste

/ 17

almigwin

,

april

2007
Goethe/Nabokov

10 ulæste

/ 10

Cateline

,

april

2007
[Lonesome Dove] compared to [The Stand] (Spoilers for both novels)

8 ulæste

/ 8

margad

,

marts

2007
MacMillan: Paris-China

3 ulæste

/ 3

John

,

marts

2007
This is a feature balloon