Cover Love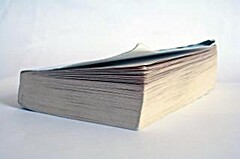 This is general thread for those of us who enjoy the look of a book. This could be favorite covers of your favorite books, covers that have caught your eye, but you would never read the book, or covers that best fit the content within.

Lets make this group image heavy. Links are welcome, but cover images are encouraged. Also, please share what makes the cover your favorite or why it caught your eye.

I want to include all fiction and nonfiction genres, all artistic types, and encourage all of you to participate!
Emne

Emne

Kommentarer

Seneste Meddelelse

Same book, different cover
10

ulæste

/ 10

humouress

,

oktober

13
Same cover, different book
4

ulæste

/ 4

lesmel

,

oktober

2021
Gilt, anyone?
4

ulæste

/ 4

2wonderY

,

oktober

2021
General group chat
1

ulæst

/ 1

2wonderY

,

maj

2021
Maggie Hope mystery covers
4

ulæste

/ 4

brodiew2

,

februar

2021
My favourite fantasy covers
43

ulæste

/ 43

skullduggery

,

september

2019
Just generally nice design
1

ulæst

/ 1

2wonderY

,

september

2019
Sisters Brothers cover
5

ulæste

/ 5

Bookmarque

,

september

2019
Books about covers and illustrators
1

ulæst

/ 1

2wonderY

,

september

2019
Natural history
6

ulæste

/ 6

2wonderY

,

september

2019
Unrequited lust
3

ulæste

/ 3

2wonderY

,

september

2019
Random sightings
2

ulæste

/ 2

brodiew2

,

april

2019
Two which caught my eye recently
4

ulæste

/ 4

brodiew2

,

november

2018
YA Historical Romance was not my first thought...
4

ulæste

/ 4

humouress

,

september

2018
A lucky book or a discerning author?
17

ulæste

/ 17

jnwelch

,

april

2016
Balzac and the Little Chinese Seamstress
3

ulæste

/ 3

jnwelch

,

marts

2016
Girl Waits With Gun cover
3

ulæste

/ 3

brodiew2

,

marts

2016
Vengeance Road Cover
5

ulæste

/ 5

mabith

,

marts

2016
'Circling the Sun' cover
4

ulæste

/ 4

mabith

,

marts

2016
This is a feature balloon