For BookCrossers: reduce MTBR 2015 Challenge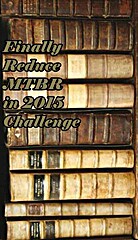 Denne gruppe er en hvilende gruppe. Det sker når en gruppe har været inaktiv længe.
Hvis du vil puste liv i gruppe igen eller oprette en ny gruppe med samme emne, så se først denne side.
In 2014 I've had fun challenging myself and reading about progress other group members make in reducing MTBR.
That's why I've started a new group for 2015, hoping that many will join again and that new members will find us too.

If you have any ideas, recommendations, comments about the group organisation, things we do or don't do that you would like to share with the group, please do so.
I'll make a seperate thread for it, then all members can post, read and comment.

Like many other avid readers I have a Mountain of Books that need To Be Read. My mountain never seems to get any smaller. The reasons for that are many gifts of generous BookCrossers and an uncontrolable urge to buy BOOKS, even when I go into town for something completely different.

So....
Are you a BookCrosser?
Do you have the same 'problem'?
Do you want to read and journal (part of) that mountain of books that were not registered by you?
Maybe you even want those books to go on a journey again?

Is the answer to all or most questions a 'YES', then you've come to the right place :-)

Here's how it works:
1. Post on January 1st (or later when you join during the year) the amount of books registered by others on your TBR-shelf.
2. Post the number of books from this selection that you want to read in 2015.
3. Keep us informed about the progress you make.
(Only list books that were on you shelf before January 1st, 2015 and that were registered by other BC-members.)

Please remember to use your member name in the thread's title. That way it's less difficult for people to find you.
Emne

Emne

Kommentarer

Seneste Meddelelse

Carry on Ardachy in 2015?

13 ulæste

/ 13

mathgirl40

,

februar

2016
2016 Challenge

5 ulæste

/ 5

mathgirl40

,

januar

2016
mathgirl40's 2015 BC MTBR Challenge

33 ulæste

/ 33

mathgirl40

,

januar

2016
BoekenTrol71's starting point

44 ulæste

/ 44

ardachy

,

januar

2016
iwillrejoice's 2015 Reduce Mt. TBR thread

98 ulæste

/ 98

SqueakyChu

,

december

2015
jessibud2 tries again to scale Mt. TBR

53 ulæste

/ 53

SqueakyChu

,

december

2015
gypsysmom's MTBR Challenge for 2015

34 ulæste

/ 34

SqueakyChu

,

november

2015
Bookcrossed Books Bug SqueakyChu in 2015

28 ulæste

/ 28

SqueakyChu

,

november

2015
Thread for ideas, comments, suggestions

64 ulæste

/ 64

BoekenTrol71

,

november

2015
Soffitta1's Reduction Challenge

29 ulæste

/ 29

mathgirl40

,

november

2015
NancyNova 2015 Mt TBR

35 ulæste

/ 35

mathgirl40

,

august

2015
Here wareagle78 goes again!

11 ulæste

/ 11

mathgirl40

,

august

2015
Nataliec7's Reduce TBR 2015 Challenge

35 ulæste

/ 35

BoekenTrol71

,

juli

2015
Megi53: harder than it looks

17 ulæste

/ 17

mathgirl40

,

juni

2015
bookworminc's 2015 MTBR Challenge

11 ulæste

/ 11

bookworminc

,

februar

2015
Just discovered this, via Twitter

8 ulæste

/ 8

BoekenTrol71

,

januar

2015
This is a feature balloon