Second World War History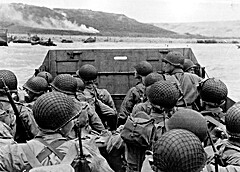 Denne gruppe er en hvilende gruppe. Det sker når en gruppe har været inaktiv længe.
If you want to revive this group, or create a new group on the same topic, see this page.
Group for discussion of books on World War II. All facets of the conflict are fair game. The causes of the war, military strategy, social history, the Holocaust and outcomes.
Emne

Emne

Kommentarer

Seneste Meddelelse

Reading in 2022
4

ulæste

/ 4

rocketjk

,

december

2022
Holiday Book Additions - What did you get?
1

ulæst

/ 1

suburbguy

,

december

2022
Volume Two of Richard Frank's Trilogy on the Asia-Pacific War
2

ulæste

/ 2

jztemple

,

december

2022
International Conference on World War II at the National World War II Museum - YouTube Access
1

ulæst

/ 1

suburbguy

,

december

2022
Excellent Interview of Craig Symonds - Author of Nimitz at War
1

ulæst

/ 1

suburbguy

,

september

2022
Recent Books on U.S. Army in the Pacific Theatre
3

ulæste

/ 3

suburbguy

,

september

2022
Book Review of "Nimitz at Sea"
1

ulæst

/ 1

suburbguy

,

maj

2022
Excellent Tribute to James Hornfischer - WSJ
1

ulæst

/ 1

suburbguy

,

maj

2022
George Marshall and Henry Stimson
5

ulæste

/ 5

Historybuff8

,

maj

2022
2022 Chicago Book and Paper Show - June 18, 2022
1

ulæst

/ 1

suburbguy

,

maj

2022
Published Review of "Victory at Sea" by Paul Kennedy
3

ulæste

/ 3

suburbguy

,

maj

2022
Belated Notice of the Obituary of James Hornfischer
1

ulæst

/ 1

suburbguy

,

maj

2022
On the partition of Poland in WWII. A Book?
4

ulæste

/ 4

spaceowl

,

februar

2022
Bibliography of US Army Unit Histories available
1

ulæst

/ 1

ControvichLibrary

,

januar

2022
U.S. Naval Institute Press - Holiday Catalog
1

ulæst

/ 1

suburbguy

,

december

2021
The Battle of Midway - Naval History Magazine Video Presentation
1

ulæst

/ 1

suburbguy

,

november

2021
Printer's Row Lit Fest (Chicago) - September 11 & 12
1

ulæst

/ 1

suburbguy

,

september

2021
Reading in 2021
3

ulæste

/ 3

rocketjk

,

september

2021
Pritzker Military Museum & Library - Virtual Symposium - German-Russian Front
1

ulæst

/ 1

suburbguy

,

marts

2021
Reading in 2020
8

ulæste

/ 8

rocketjk

,

januar

2021
Conflict in the Levant - 1945
1

ulæst

/ 1

rocketjk

,

december

2020
An invitation to the History Fans group!
1

ulæst

/ 1

jztemple

,

december

2020
104 Infantry Division books
1

ulæst

/ 1

Philip-Reinders

,

september

2019
3053rd engineer combat battalion
1

ulæst

/ 1

Philip-Reinders

,

september

2019
Reading in 2019
1

ulæst

/ 1

rocketjk

,

juli

2019
Has anyone ordered an Osprey title on a Kindle or other reader/tablet device?
3

ulæste

/ 3

suburbguy

,

maj

2019
Target Berlin: Mission 250: 6 March 1944
3

ulæste

/ 3

Ammianus

,

april

2019
Looking for WWII Battalion level histories for library
1

ulæst

/ 1

ControvichLibrary

,

februar

2019
Reading in 2018
7

ulæste

/ 7

rocketjk

,

november

2018
Escape, Evasion and Revenge: The True Story of a German-Jewish RAF Pilot Who Bombed Berlin and Became a POW
31

ulæste

/ 31

roomsofbooks

,

juli

2018
Good Deal on Kindle Book - Last Hope Island
2

ulæste

/ 2

jztemple

,

april

2018
Dresden bombing recommendations
3

ulæste

/ 3

cpg

,

februar

2018
The Manhattan Project
6

ulæste

/ 6

guido47

,

december

2017
Vietnam PBS Series
11

ulæste

/ 11

rocketjk

,

november

2017
Good Deal on Kindle Edition of new Guadalcanal Book
2

ulæste

/ 2

jztemple

,

oktober

2017
56th Chicago Book and Paper Fair - June 17, 2017
1

ulæst

/ 1

suburbguy

,

juni

2017
2017 Reads
1

ulæst

/ 1

Ammianus

,

marts

2017
Photos from Germany in 30's and 40's
1

ulæst

/ 1

fredbacon

,

marts

2017
Allied POWs
1

ulæst

/ 1

EdWyatt

,

marts

2017
Edward R. Hamilton - Catalog of December 10, 2010
4

ulæste

/ 4

varielle

,

februar

2017
Good Deal on Kindle Version of Pacific Crucible by Ian Toll
1

ulæst

/ 1

suburbguy

,

februar

2017
Good Deal on Kindle Version of Neptune's Inferno by James Hornfischer
1

ulæst

/ 1

suburbguy

,

februar

2017
Currently reading in 2016
35

ulæste

/ 35

jztemple

,

december

2016
Good Kindle Deal - Max Hastings - The Secret War
1

ulæst

/ 1

suburbguy

,

december

2016
Pritzker Museum & Library (Chicago) - Fall Book Sale - Oct 14-16
1

ulæst

/ 1

suburbguy

,

oktober

2016
US Carrier History in WWII
5

ulæste

/ 5

stellarexplorer

,

juli

2016
Good Deal on Kindle Book - The Mantle of Command
2

ulæste

/ 2

suburbguy

,

juli

2016
Interesting article on Iwo Jima flag raising, citing new evidence on persons involved
1

ulæst

/ 1

jztemple

,

maj

2016
Rec me please? WWll novels by participants
9

ulæste

/ 9

chrisharpe

,

april

2016
Current Reading - 2015
36

ulæste

/ 36

Jestak

,

december

2015
Recently printed unit histories
1

ulæst

/ 1

ControvichLibrary

,

september

2015
Three Volume History on Pacific War by Richard Frank
4

ulæste

/ 4

sdmahaneysc

,

juli

2015
D-Day
12

ulæste

/ 12

Ammianus

,

juni

2015
NOVA/National Geographic Special - Nazi Attack on America
3

ulæste

/ 3

rocketjk

,

maj

2015
Book Review - Target Tokyo by James Scott
1

ulæst

/ 1

suburbguy

,

april

2015
Free Download: 8-Volume Official Biography of Sir Winston Churchill
2

ulæste

/ 2

rudel519

,

april

2015
Discovery of the Japanese Battleship Musashi
3

ulæste

/ 3

DugsBooks

,

marts

2015
RIP - Sir Martin Gilbert
2

ulæste

/ 2

jmnlman

,

februar

2015
Ken Burns' The Roosevelts - Favorite Book on FDR
5

ulæste

/ 5

jztemple

,

januar

2015
Top Naval Books for 2014
1

ulæst

/ 1

suburbguy

,

december

2014
Naval Technology and Ship Desgin
6

ulæste

/ 6

suburbguy

,

december

2014
What is on your holiday book list?
2

ulæste

/ 2

stellarexplorer

,

december

2014
New George Marshall Biography
8

ulæste

/ 8

DVanderlinde

,

december

2014
RIP Joseph H. Alexander
1

ulæst

/ 1

suburbguy

,

november

2014
USS Houston Website
1

ulæst

/ 1

suburbguy

,

august

2014
Recent Dive Report on USS Houston
1

ulæst

/ 1

suburbguy

,

august

2014
Kindle Version of Ship of Ghosts by James Hornfishcer - Good Deal - $2.45
1

ulæst

/ 1

suburbguy

,

august

2014
Excellent Deals on Amazon.com Kindle Books - $2.99 - Assuming Purchase of Hardcover Book
1

ulæst

/ 1

suburbguy

,

august

2014
Five Came Back by Mark Harris - Hollywood Directors Go to War
4

ulæste

/ 4

Diane-bpcb

,

juli

2014
Current Reading--Spring 2014
17

ulæste

/ 17

Jestak

,

juli

2014
Warship 2014 is Available!
1

ulæst

/ 1

suburbguy

,

juli

2014
Papers and Documents of the Great Men of WWII - Looking for other Titles
4

ulæste

/ 4

fredbacon

,

maj

2014
Top 50 Churchill Books - 1968-2008 - The Churchill Centre
3

ulæste

/ 3

suburbguy

,

maj

2014
Looking for "battle of Vosges" (44-45) stories from american or german side
3

ulæste

/ 3

VonKar

,

maj

2014
Link to Chester Nimitz Grey Book
1

ulæst

/ 1

suburbguy

,

april

2014
Two Recent Books on FDR - 1939-1942
1

ulæst

/ 1

suburbguy

,

april

2014
Best Books on the War
17

ulæste

/ 17

Hedgepeth

,

april

2014
New Book Release on Java Sea Campaign
2

ulæste

/ 2

mburdette

,

april

2014
Bismark by John Asmussen - Looking for a Review
1

ulæst

/ 1

suburbguy

,

april

2014
WWII: The South West Pacific Area
16

ulæste

/ 16

Ammianus

,

april

2014
Upcoming Book on Operation Neptune by Craig Symonds
1

ulæst

/ 1

suburbguy

,

marts

2014
US Naval War College Review - German Type XXI Submarine
1

ulæst

/ 1

suburbguy

,

marts

2014
Rommel - A Reappraisal
1

ulæst

/ 1

Ammianus

,

marts

2014
The Books of August
8

ulæste

/ 8

stbpriorian

,

februar

2014
Books I'm thinking about in 2014
17

ulæste

/ 17

Kunikov

,

februar

2014
Recent Publication - The Churchill Documents - 1942
1

ulæst

/ 1

suburbguy

,

februar

2014
Pritzker Military Museum and Library Podcasts - Recent Nomonhan Podcast
1

ulæst

/ 1

suburbguy

,

februar

2014
Looking for Review on a Bismarck Book Title
1

ulæst

/ 1

suburbguy

,

februar

2014
Good Price on Nelson to Vanguard: Warship Design and Development 1923-1945 at Half Price Books
1

ulæst

/ 1

suburbguy

,

februar

2014
Currently reading in JAN'14
4

ulæste

/ 4

charbonn

,

januar

2014
THE GERMAN CAMPAIGN IN THE BALKANS
4

ulæste

/ 4

wbf2nd

,

januar

2014
David Glantz's Stalingrad Trilogy
1

ulæst

/ 1

DVanderlinde

,

januar

2014
Was Santa good to you?
11

ulæste

/ 11

charbonn

,

januar

2014
Looking for a Good Title on British Campaign in East Africa - 1940/1
5

ulæste

/ 5

Africansky1

,

december

2013
Stephen Roskill Series - The War at Sea - Kindle Availability
3

ulæste

/ 3

suburbguy

,

december

2013
Recent Book on Invasion of Norway and Denmark
3

ulæste

/ 3

suburbguy

,

december

2013
Treating Yourself for the Holidays?
4

ulæste

/ 4

guido47

,

december

2013
Bruce Gamble's Rabaul Trilogy - Third Volume is Coming
2

ulæste

/ 2

jztemple

,

oktober

2013
Has Anyone Looked At Pacific Blitzkrieg: World War II in the Central Pacific
2

ulæste

/ 2

Ammianus

,

oktober

2013
Author Richard Frank to Appear at Chicago Event - October 23
1

ulæst

/ 1

suburbguy

,

oktober

2013
This is a feature balloon