Jewish Fiction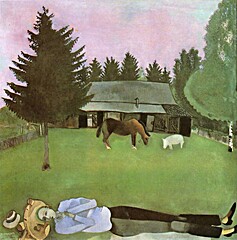 What with all the great Jewish writers through the centuries, lets start a discussion of Jewish Fiction. Which books are your favorites? Which writer is your favorite...Philip Roth, Saul Bellow, Issac Beshevis Singer, Malamud,Heller, Mailer, Kafka, Canetti...the list is endless.

Feel free to add the names and the titles as you talk Jewish Fiction.

A self-led discussion free of an official narrator as one might find at such good websites like Nextbook.

Start a discussion. L'chaim.
Emne

Emne

Kommentarer

Seneste Meddelelse

Currently Reading…
3

ulæste

/ 3

PatrickMurtha

,

juli

14
2022 National Jewish Book Awards
1

ulæst

/ 1

rocketjk

,

februar

10
Where should I start ?
4

ulæste

/ 4

lilithcat

,

november

2022
The Family Moskat by Isaac B. Singer
1

ulæst

/ 1

rocketjk

,

august

2022
The Netanyahus
3

ulæste

/ 3

bergs47

,

juni

2022
Yiddish women authors in translation
2

ulæste

/ 2

rocketjk

,

juni

2022
Terrific Jewish/Yiddish series from Syracuse University Press
1

ulæst

/ 1

rocketjk

,

juni

2022
Philip Roth-New Book
40

ulæste

/ 40

rocketjk

,

februar

2021
The Conversion of Chaplain Cohen
3

ulæste

/ 3

rocketjk

,

januar

2021
The Death of Methuselah by Singer
2

ulæste

/ 2

MarthaJeanne

,

december

2020
How to define 'Jewish Fiction'?
17

ulæste

/ 17

Crypto-Willobie

,

oktober

2020
Sholem Asch
6

ulæste

/ 6

MarthaJeanne

,

august

2019
Sholom Aleichem?
8

ulæste

/ 8

alans

,

august

2019
RIP Amoz Oz
3

ulæste

/ 3

rocketjk

,

januar

2019
Israeli Fiction
7

ulæste

/ 7

rocketjk

,

marts

2018
Jewish Identity Conflict
5

ulæste

/ 5

SqueakyChu

,

juni

2016
Mark Lictenfeld
2

ulæste

/ 2

Polaris-

,

februar

2014
Line Change author interview
3

ulæste

/ 3

Polaris-

,

januar

2014
Chaim Potok
10

ulæste

/ 10

bergs47

,

november

2013
L'shanah tovah
8

ulæste

/ 8

rocketjk

,

september

2013
YA Fiction without the smut
2

ulæste

/ 2

amysisson

,

september

2013
Natasha by David Bezmozgis
3

ulæste

/ 3

rocketjk

,

december

2012
New Jewish-themed quantum fiction short story
2

ulæste

/ 2

torontoc

,

december

2012
website for Jewish Fiction
2

ulæste

/ 2

sarahbridgeton

,

august

2012
David Grossman - Someone to Run With
20

ulæste

/ 20

berthirsch

,

november

2011
שנה טובה
12

ulæste

/ 12

SqueakyChu

,

oktober

2011
magick in narrative
7

ulæste

/ 7

Polaris-

,

oktober

2011
Chabon's latest
14

ulæste

/ 14

mod.marty

,

september

2011
Yosef Hayim Yerushalami
1

ulæst

/ 1

berthirsch

,

august

2011
Howard Jacobson
33

ulæste

/ 33

bostonbibliophile

,

august

2011
Non-depressing suggestions
24

ulæste

/ 24

berthirsch

,

juli

2011
Prizes
8

ulæste

/ 8

bostonbibliophile

,

juni

2011
Ozick on Bellow
5

ulæste

/ 5

berthirsch

,

juni

2011
Samuel Ornitz and "Haunch, Paunch and Jowl"
2

ulæste

/ 2

berthirsch

,

januar

2011
Nemesis by Philip Roth
2

ulæste

/ 2

berthirsch

,

november

2010
Night Shines as Day by Ron Friedman
4

ulæste

/ 4

RonFriedman

,

oktober

2010
L'Shana Tova — Happy New Year Rosh Hashanah 5771 / 2010
7

ulæste

/ 7

carolcat

,

september

2010
National Jewish Book Awards
1

ulæst

/ 1

bergs47

,

september

2010
The Gates of the Forest
1

ulæst

/ 1

rocketjk

,

juni

2010
Haim Sabato
7

ulæste

/ 7

sherylabbey

,

november

2009
leo perutz
2

ulæste

/ 2

Makifat

,

august

2009
The New Yiddishists
7

ulæste

/ 7

nbmars

,

august

2009
A Mad Desire to Dance
5

ulæste

/ 5

rocketjk

,

juli

2009
Scream Queens of the Dead Sea - Gilad Elbom
1

ulæst

/ 1

SqueakyChu

,

juni

2009
Returning Lost Loves - Yehoshua Kenaz
6

ulæste

/ 6

SqueakyChu

,

juni

2009
Anzia Yezierska
11

ulæste

/ 11

torontoc

,

marts

2009
Jewish Literary Prize
11

ulæste

/ 11

nbmars

,

juli

2008
Nathan Englander
10

ulæste

/ 10

brusselsbook

,

juli

2008
Giveaway
1

ulæst

/ 1

Kegsoccer

,

juni

2008
The Genizah at the House of Shepher (ARC) - bookray
1

ulæst

/ 1

SqueakyChu

,

juni

2008
indie writers
1

ulæst

/ 1

reademwritem

,

maj

2008
Gypsy Tears
3

ulæste

/ 3

bostonbibliophile

,

april

2008
Jewish Science Fiction
17

ulæste

/ 17

nbmars

,

marts

2008
Chabon...
8

ulæste

/ 8

motomama

,

februar

2008
PHILIP ROTH- EXIT GHOST
9

ulæste

/ 9

berthirsch

,

februar

2008
This is a feature balloon