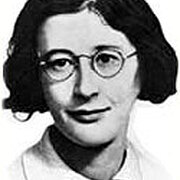 Almen Viden
Kanonisk navn

Juridisk navn

Andre navne

Fødselsdato

Dødsdag

Begravelsessted

Køn

Nationalitet

Fødested

Dødssted

Dødsårsag

Bopæl

Uddannelse

Erhverv

Relationer

Kort biografi

Simone Weil was born into a wealthy Parisian Jewish family originally from the Alsace region. She suffered from ill-health but was a brilliant student, excelling in languages, philosophy, literature, and science. After graduation from the École Normale Supérieure in 1931, she taught at several rural academies, and wrote articles for socialist journals. She was a political idealist, and took a leave of absence to work in a Renault factory in order to become more closely connected with the French working class. She went to Spain in 1936 to fight for the Republic against fascism in the Civil War, but was injured in a cooking fire and also contracted tuberculosis. Weil became heavily involved in Catholicism, having a series of mystical experiences. She traveled to the United States with her family and eventually resettled in England. She died aged only 34, apparently having starved herself to death "whilst the balance of her mind was disturbed." Simone Weil's books were all published posthumously.

Oplysning om flertydighed

Do not combine with Simone Veil (born 1927), French lawyer and politician.
Statistikker
Værker

165

Also by

7

Medlemmer

5,757

Popularitet

#4,284

Vurdering

4.0
Anmeldelser

77

ISBN

442

Sprog

23

Udvalgt

31