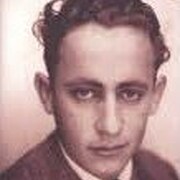 Almen Viden
Fødselsdato

Dødsdag

Køn

Nationalitet

Fødested

Dødssted

Bopæl

Paris, France
Drancy concentration camp
Auschwitz-Birkenau concentration camp
Buchenwald Concentration Camp, Germany

Erhverv

Relationer

Kort biografi

Paul Steinberg was born to a Russian Jewish family living in Berlin, Germany. His mother Hélène died days after his birth. The family immigrated to France when he was a child, after spending time in Italy and Spain. He grew up without forming any close friendships, changed schools numerous times, and learned to speak German, French, Russian, and English. In 1943, during World War II, he was a 16-year-old chemistry student in Paris, when he was arrested and deported to the Drancy transit camp and then to the death camp at Auschwitz. There he worked for a time in the camp's laboratory with Primo Levi. In Levi's autobiographical book, If This is a Man -- also known as Survival in Auschwitz -- he wrote about "Henri" (Steinberg) and the moral compromises that Henri made in order to stay alive. As the Red Army approached from the east in 1945, Steinberg was among the thousands of prisoners sent on a death march to Gleiwitz. From there, he was transported by train to Buchenwald. He survived to be liberated by U.S. troops. After the war, he returned to Paris, where he married Simone, with whom he had two children, and worked in business for almost 40 years. After his retirement, he finally told his own story in his 1996 memoir Chroniques d'ailleurs: Récit, published in English in 2001 as Speak You Also: A Survivor's Reckoning.