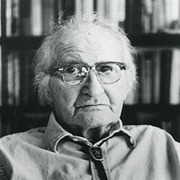 Almen Viden
Fødselsdato

Dødsdag

Køn

Nationalitet

Fødested

Dødssted

Bopæl

New York, New York, USA
Albuquerque, New Mexico, USA
Tysmenica, Galicia, Austria (birth | now Ukraine)

Uddannelse

Erhverv

Priser og hædersbevisninger

Kort biografi

Henry Roth was born to a Jewish family in Tysmenitz, Galicia, in the Austro-Hungarian Empire (present-day Ukraine). When he was a small child, he emigrated with his family to the USA, setting in New York City. In 1928, he graduated from City College of New York and moved in with Eda Lou Walton, a poet and English literature instructor at New York University. With her support and encouragement, he wrote his first novel, Call It Sleep. It was published in 1934 to mostly good reviews, but then forgotten; the book underwent a critical reappraisal 30 years later, after it was republished in paperback and became an instant bestseller. Call It Sleep is now considered a masterpiece and a classic Depression-era work. Roth began a second novel, but was afflicted by a deep writer's block that lasted for decades. In 1938, at the artists' colony Yaddo in Saratoga Springs, New York, he met Muriel Parker, a pianist and composer; the couple married the following year and had two sons. The family moved several times as Roth took jobs as varied as machinist, woodsman, schoolteacher, psychiatric attendant in a state mental hospital, raising waterfowl, and Latin and math tutor. In 1968, he and his wife moved to Albuquerque, New Mexico. There Roth collaborated with his friend and Italian translator, Mario Materassi, on putting together a collection of short stories and essays, Shifting Landscape: A Composite, 1925–87, published in 1987. Eventually, Roth completed two of the next installments in the projected six-volume work he had been trying to write for 60 years. The first, Mercy of a Rude Stream, was published in 1994; A Diving Rock on the Hudson appeared in 1995, the year of his death. An American Type, based on an unpublished manuscript edited by Willing Davidson, appeared in print in 2010.
Statistikker
Værker

11

Also by

7

Medlemmer

2,985

Popularitet

#8,549

Vurdering

3.8
Anmeldelser

63

ISBN

120

Sprog

9

Udvalgt

8

Trædesten

109