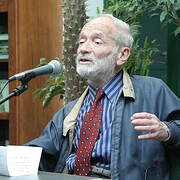 Mordecai Roshwald
(1921–2015)
Almen Viden
Fødselsdato

Dødsdag

Køn

Nationalitet

Fødested

Dødssted

Bopæl

Lwów, Poland
Tel Aviv, Israel
Silver Spring, Maryland, USA
Bath, Somerset, England, UK
Vancouver, British Columbia, Canada

Erhverv

Organisationer

Kort biografi

Mordecai Roshwald was born to a Jewish family in Drohobycz, Poland (present-day Drohobych, Ukraine). At age 13, he emigrated to the British Mandate of Palestine, where he lived for the next 21 years. He then moved to the USA, where he lived for the next 54 years, with prolonged stays in England, Canada, Israel and Taiwan, as well as extensive trips in Europe. He taught humanities at the University of Minnesota from 1957 to 198, served as a visiting professor at many universities worldwide, and contributed articles to publications such as The Nation and the Jewish Journal of Sociology. His most famous work is one of his earliest, Level 7 (1959), a post-nuclear age science fiction novel. It was adapted by the BBC for a television drama in 1966. He was also the author of A Small Arrmageddon (1962) and the nonfiction Dreams and Nightmares: Science and Technology in Myth and Fiction (2008).

His autobiography,

Looking Back in Wonder: The Author's Reminiscences and Reflections, was published in 2004.