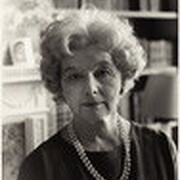 Rosamond Lehmann
(1901–1990)
Almen Viden
Juridisk navn

Fødselsdato

Dødsdag

Køn

Nationalitet

Fødested

Dødssted

Bopæl

Uddannelse

Erhverv

Relationer

Lehmann, John (brother)
Lehmann, Beatrix (sister)
Rees, Goronwy (lover)
Day-Lewis, Cecil (lover)
Lehmann, R. C. (father)

Organisationer

Priser og hædersbevisninger

Kort biografi

A popular, beautiful and talented British female writer of the 1920s and '30s. She was known for capturing the post WWI outlook of her "lost Generation." She was very skillful at depicting the bind women of the time experienced as war and technology modernized social conventions permanently. She brought home the now eternal feminist problem of having it all: surrendering to a man versus being independent.

Rosamond Lehmann was an older sister of actress Beatrix Lehmann and writer John Lehmann. Her family lived in grand style and Rosamond and her siblings were educated by governesses and tutors. She won a scholarship to Cambridge University, where she read English literature and modern and medieval languages. She married firstly Leslie (later Lord) Runciman, but the marriage was unhappy and the couple divorced in 1927. That same year, she published her first novel, Dusty Answer, which won both critical and popular acclaim. In 1928, she married painter Wogan Philipps, who became Baron Milford. The couple had two children before they divorced.
She had a long affair in the 1940s with the poet Cecil Day-Lewis. The Literary Encyclopedia says, "Rosamond Lehmann was one of the most celebrated writers of the late 1920s and 1930s, famed as much for her beauty and elegance as for her well-crafted interwar novels. Consistently blending romance and loss, her work captures the Zeitgeist of a period much given to nostalgia. Her lasting achievement, however, lies in her acute sense of the tensions and conflicts in women's lives in the interwar years: in the portrayal of the impasse between modernity and convention, between the desire for romance and the need for independence." Lehmann was close with many members of the Bloomsbury Group. She wrote plays and short stories in addition to novels. After the death of her daughter Sally in 1958, Lehmann was emotionally shattered and grew deeply interested in spiritualism; she was elected vice-president of the College of Psychic Studies and edited its publication. In 1967, she published the autobiographical The Swan in the Evening. She also co-wrote the two-volume work Letters from Our Daughters (1971) with Cynthia, Lady Sandys.
Statistikker
Værker

26

Also by

8

Medlemmer

2,852

Popularitet

#8,996

Vurdering

3.7
Anmeldelser

94

ISBN

139

Sprog

5

Udvalgt

18