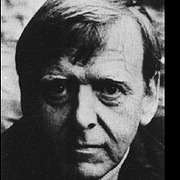 Julian Jaynes
(1920–1997)
Almen Viden
Kanonisk navn

Andre navne

Fødselsdato

Dødsdag

Køn

Nationalitet

Fødested

Dødssted

Dødsårsag

Bopæl

Newton, Massachusetts, USA
England, UK
Keppoch, Charlottetown, Prince Edward Island, Canada
Princeton, New Jersey, USA

Uddannelse

Erhverv

Organisationer

Julian Jaynes society (http://www.julianjaynes.org/about-jay...)
Princeton University
Yale University
University of Toronto

Priser og hædersbevisninger

Rhode Island College (Honorary Doctorate ∙ 1979)
Elizabethtown College (Honorate Doctorate ∙ 1985)
Wittgenstein Symposium (plenary lecturer ∙ 1984)
Dr. Julian Jaynes Memorial Scholarship in Psychology

Kort biografi

Born in West Newton, Massachusetts, Julian Jaynes did his undergraduate work at Harvard and McGill and received both his master's and doctoral degrees in psychology from Yale. After Yale, Jaynes spent several years in England working as an actor and playwright. Jaynes later returned to the states, and lectured in psychology at Princeton University from 1966 to 1990, teaching a popular class on consciousness for much of that time. In addition, he had numerous positions as Visiting Lecturer or Scholar in Residence in departments of philosophy, English, and archeology and in numerous medical schools. Julian Jaynes was an associate editor of the internationally renowned journal Behavioral and Brain Sciences and on the editorial board of the Journal of Mind and Behavior.
Julian Jaynes published widely, his earlier work focusing on the study of animal behavior and ethology, which eventually led him to the study of human consciousness. His more recent work culminated in 1976 in his book The Origin of Consciousness in the Breakdown of the Bicameral Mind, a nominee for the National Book Award in 1978. Articles on Jaynes's theory appeared in Time magazine and Psychology Today in 1977. Criticized by some and acclaimed by others as one of the most important books of the 20th century, it remains as controversial today as when it was first published. Expanding on this book are several more recent articles published in a variety of journals such as Canadian Psychology, Behavioral and Brain Sciences, The History of Ideas, and Art/World.
Statistikker
Værker

3

Also by

1

Medlemmer

2,157

Popularitet

#11,916

Vurdering

4.2
Anmeldelser

41

ISBN

26

Sprog

5

Udvalgt

6

Trædesten

40