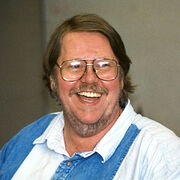 Gardner Dozois
(1947–2018)
Forfatter af Rogues
Almen Viden
Juridisk navn

Andre navne

Fødselsdato

Dødsdag

Køn

Nationalitet

Fødested

Dødssted

Dødsårsag

Bopæl

Uddannelse

Erhverv

Organisationer

Priser og hædersbevisninger

SF Hall Of Fame (2011)
Locus Award Finalist (Editor, 2017)
Locus Award (Editor, 2019)
Hugo (Best Editor - Short Form, 2019)

Agent

Oplysning om flertydighed

Dozois' popular series The Year's Best Science Fiction has been reprinted as Best New SF and The Mammoth Book of Best New SF in the UK with different numbers than the US series. Some of the US volumes have never been reprinted in the UK. Some volumes have been reprinted in Australia under the names The Giant Book of Fantastic SF and The Giant Book of Modern SF (and possibly others).
Dozois' Best Science Fiction Stories of the Year is an unrelated series.
Statistikker
Værker

581

Also by

85

Medlemmer

31,274

Popularitet

#630

Vurdering

3.7
Anmeldelser

563

ISBN

604

Sprog

13

Udvalgt

7

Trædesten

253