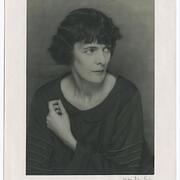 Almen Viden
Juridisk navn

Andre navne

Fødselsdato

Dødsdag

Begravelsessted

Køn

Nationalitet

Fødested

Dødssted

Dødsårsag

Bopæl

Bethlehem, Pennsylvania, USA
Upper Darby, Pennsylvania, USA
Londen, Engeland, Groot-Brittannië
Parijs, Frankrijk
Wenen, Oostenrijk
Zürich, Zwitserland

Uddannelse

Friends Central High School, Philadelphia, Pennsylvania, USA
Bryn Mawr College
University of Pennsylvania

Erhverv

Relationer

Aldington, Richard (husband)
Schaffner, Perdita (daughter)
Schaffner, Nicholas (grandson)
Bryher (partner)
Macpherson, Kenneth (lover)
Gray, Cecil (lover)

Organisationer

Priser og hædersbevisninger

American Academy of Arts and Letters medal
Brandeis University Creative Arts Medal for lifetime of distinguished achievement

Kort biografi

Hilda Doolittle (known by her initials H.D.) was born in Bethlehem, Pennsylvania. She attended Bryn Mawr College, but dropped out and went to England in 1911. In 1913, she married Richard Aldington, a novelist and biographer. Her first published poems appeared in the journal Poetry in 1913 and then in the English Review, the Transatlantic Review, and the Egoist. H.D. met Annie Winifred Ellerman, known as Bryher, in 1918, and they became lifelong companions.
Statistikker
Værker

73

Also by

43

Medlemmer

2,947

Popularitet

#8,677

Vurdering

3.9
Anmeldelser

26

ISBN

141

Sprog

8

Udvalgt

15