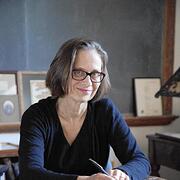 Almen Viden
Juridisk navn

Fødselsdato

Køn

Nationalitet

Fødested

Bopæl

Northampton, Massachusetts, USA
East Nassau, New York, USA
Port Ewen, New Jersey, USA
New York, New York, USA

Uddannelse

Erhverv

Relationer

Organisationer

Priser og hædersbevisninger

Booker Prize (2013)
Lannan Literary Award ( [1998])
Whiting Writers' Award (1988)
National Endowment for the Arts Fellowship (Fiction Translation)
French-American Foundation Translation Award (1993)
Guggenheim Fellowship (

vis alle

10)
Fund for Poetry Award (1992)
French Chevalier of the Order of Arts and Letters
Ingram Merrill Foundation grant for fiction
MacArthur Fellowship (2003)

Kort biografi

Lydia Davis (Massachusetts, 1947), momenteel professor creative writing aan de universiteit van Albany, heeft negen verhalenbundels en één roman (The End of the Story, 1995) gepubliceerd. Haar verhalen zijn kort (twee tot drie pagina's) en ultrakort (twee tot drie zinnen). Volgens de jury heeft haar werk de beknoptheid en de precisie van poëzie. Haar inventieve en zorgvuldig geschreven verhalen kunnen net zo goed miniaturen worden genoemd, of anekdotes, essays, grappen, parabels, fabels, teksten, aforismen of zelfs spreuken. Eenzelfde zorgvuldigheid kenmerkt ook haar vertalingen van Franse literatuur en filosofie, van onder meer Du côté de chez Swann van Marcel Proust en Madame Bovary van Gustave Flaubert.
Statistikker
Værker

36

Also by

43

Medlemmer

4,022

Popularitet

#6,270

Vurdering

3.9
Anmeldelser

114

ISBN

140

Sprog

14

Udvalgt

9

Trædesten

129