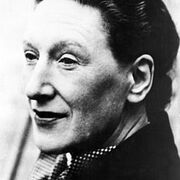 Almen Viden
Kanonisk navn

Juridisk navn

Andre navne

Fødselsdato

Dødsdag

Begravelsessted

Køn

Nationalitet

Fødested

Dødssted

Bopæl

Dublin, Ireland
Farahy, Ireland
Hythe, England, UK
Regent's Park, London, England, UK
Headington, Oxford, Oxfordshire, England, UK

Uddannelse

Erhverv

Relationer

Priser og hædersbevisninger

Order of the British Empire (Commander, 1948)
Companion of Literature (1965)
Doctor of Letters, Trinity College, Dublin
Doctor of Letters, Oxford University (1956)
Lacy Martin Donnelly Fellow (1956)

Kort biografi

Elizabeth Bowen was born in Dublin in 1899, the only child of an Irish lawyer and landowner. Her book Bowen's Court (1942) is the history of her family and their house in County Cork. Throughout her life, she divided her time between London and Bowen's Court, which she inherited. She had friends among the Bloomsbury Group, and was close to Rose Macaulay, who helped her find a publisher for her first book, a collection of short stories called Encounters (1923). During World War II, Elizabeth Bowen lived in London and worked for the British Ministry of Information. She received acclaim for her novels and short story collections, was awarded the CBE (Companion of the Order of the British Empire) in 1948, and was made a Companion of Literature by the Royal Society of Literature in 1965. She died in 1973.
Statistikker
Værker

72

Also by

74

Medlemmer

7,960

Popularitet

#3,048

Vurdering

3.8
Anmeldelser

167

ISBN

264

Sprog

8

Udvalgt

16

Trædesten

529