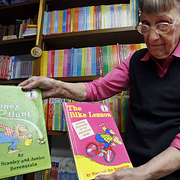 Jan Berenstain
(1923–2012)
Almen Viden
Juridisk navn

Andre navne

Fødselsdato

Dødsdag

Køn

Nationalitet

Fødested

Dødssted

Dødsårsag

Bopæl

Uddannelse

Erhverv

Relationer

Kort biografi

Janice "Jan" Berenstain, née Grant, and Stanley Berestain are best known for the children's book series The Berenstain Bears, which became a franchise including a television series, toys, and stage productions.

Oplysning om flertydighed

Do NOT combine "Jan Berenstain" with either "Stan Berenstain" or any of the various "Stan & Jan Berenstain" pages. They are two separate people. Thank you.
Statistikker
Værker

558

Also by

4

Medlemmer

145,246

Popularitet

#44

Vurdering

3.8
Anmeldelser

1,051

ISBN

2,981

Sprog

13

Udvalgt

2

Om

1

Trædesten

17