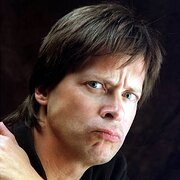 Almen Viden
Juridisk navn

Fødselsdato

Køn

Nationalitet

Fødested

Bopæl

Uddannelse

Erhverv

Organisationer

Priser og hædersbevisninger

Kort biografi

The New York Times has pronounced Dave Barry "the funniest man in America." But of course that could have been on a slow news day when there wasn't much else fit to print. True, his bestselling collections of columns are legendary, but it is his wholly original books that reveal him as an American icon. Dave Barry Slept Here was his version of American history. Dave Barry Does Japan was a contribution to international peace and understanding from which Japan has not yet fully recovered. Dave Barry's Complete Guide to Guys is among the best-read volumes in rehab centers and prisons. Raised in a suburb of New York, educated in a suburb of Philadelphia, he lives now in a suburb of Miami. He is not, as he often puts it so poetically, making this up.
Dave's most recent books are "Best. State. Ever.: A Florida Man Defends His Homeland," and "Lessons From Lucy: The Simple Joys of an Old, Happy Dog." His next book, "A Field Guide To The Jewish People," which he co-wrote with his friends Adam Mansbach and Alan Zweibel, will be published September 24. Dave is not Jewish, but Adam and Alan are, so it's kosher.
Statistikker
Værker

100

Also by

23

Medlemmer

33,997

Popularitet

#563

Vurdering

3.8
Anmeldelser

889

ISBN

658

Sprog

13

Udvalgt

94

Trædesten

495