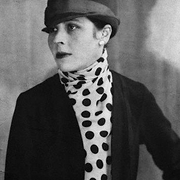 Almen Viden
Fødselsdato

Dødsdag

Begravelsessted

Køn

Nationalitet

Fødested

Dødssted

Bopæl

Storm King Mountain, New York, USA (birth)
New York, New York, USA
Greenwich Village, New York, USA
Paris, France

Uddannelse

Erhverv

Relationer

Joyce, James (friend)
Stein, Gertrude (friend)
Pound, Ezra (friend)
Hanfstaengl, Ernst (fiancé)
Barney, Natalie Clifford (friend)

Organisationer

American Academy of Arts and Letters(Literature ∙ 1959)
Hayford Hall Circle
National Institute of Arts and Letters

Kort biografi

Djuna Barnes was born near Cornwall-on-Hudson, New York. Her parents' household was eccentric; it included her father's mistress and children, though Djuna's negligent father did not adequately support them all. As the second oldest of eight children, Djuna spent much of her childhood helping to care for siblings and half-siblings. She received her early education at home, mostly from her father and grandmother. At 16 she was raped, possibly by a neighbor or by her father. She referred to the event in several of her works. She left home for New York City, where she studied art at the Pratt Institute and the Art Student's League. She got work as a magazine journalist and illustrator with The Brooklyn Eagle and McCall's Magazine before embarking on a literary career, producing short stories and plays, and articles for a variety of publications. In 1921, she made her first trip to Paris, the center of modernism in art and literature of the day, on assignment for McCall's. There she befriended many expatriate writers and artists and became a key figure in Bohemian circles of the Left Bank; her black cloak and acerbic wit are recalled in many memoirs of the time. Even before her first novel, the bestselling Ryder, was published in 1928, her literary reputation was already high, based on her short story "A Night Among the Horses," first published in The Little Review and reprinted in her 1923 collection A Book. She became part of the coterie surrounding the influential writer and salonnière Natalie Clifford Barney. Djuna set up housekeeping with artist Thelma Wood in a flat purchased with the proceeds of her successful novel. In 1928, she published Ladies Almanack, a controversial comic novel about a predominantly lesbian social circle, a thinly-disguised version of Natalie Barney's group. During the 1930s, Djuna was chronically ill and drank heavily; in February 1939 she attempted suicide. Peggy Guggenheim, her patron, sent her back to New York, where her family entered her into a sanatorium. She then moved to an apartment in New York City's Greenwich Village, where she would spend the last 42 years of her life. Her best-known later work was the play The Antiphon (1958). Djuana Barnes also achieved acclaim as an artist, and her paintings and drawings were exhibited at Peggy Guggenheim's gallery in Manhattan. She is considered one of the most important avant-garde writers and artists of the 20th century as well as a precursor of the "New Journalism" of the 1960s.
Statistikker
Værker

55

Also by

22

Medlemmer

4,495

Popularitet

#5,574

Vurdering

3.6
Anmeldelser

70

ISBN

187

Sprog

14

Udvalgt

26

Trædesten

155