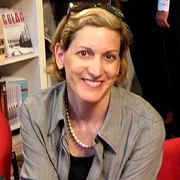 Almen Viden
Kanonisk navn

Juridisk navn

Fødselsdato

Køn

Nationalitet

Fødested

Bopæl

Uddannelse

Yale University (BA | 1986)
London School of Economics (MA|1987)
University of Oxford (St Antony's College)

Erhverv

Relationer

Organisationer

Slate (Editorialiste)
Washington Post (Editorialiste)
The Economist (Correspondante Varsovie)
Johns Hopkins School of Advanced International Studies
Agora Institute

Priser og hædersbevisninger

George Herbert Walker Bush/Axel Springer Fellow at the American Academy in Berlin
Charles Douglas-Home Memorial Trust Award (1992)
Duff Cooper Prize (2003)
Pulitzer Prize for General Non-Fiction (2004)
Cundill Prize (2013)
Duke of Westminster's Medal for Military Literature (2013) (

vis alle

9)
Duff Cooper Prize (2017)
Lionel Gelber Prize (2018)
Marshall Scholar

Kort biografi

Anne Applebaum attended Yale University and won a Marshall Scholarship to study at the London School of Economics and Oxford University. She moved to Warsaw in 1988 to work for The Economist, providing valuable first-hand reportage on important social and political transitions in Eastern Europe before and after the fall of Communism and the end of the Berlin Wall in 1989. She has been a reporter and editor for the Evening Standard and the Spectator, as well as writing for many other publications, and formerly served as an editorial board member of the Washington Post.
She is also Director of Political Studies at the Legatum Institute in London, where she runs projects on political and economic transition. Her second book, Gulag: A History (2003), was awarded the 2004 Pulitzer Prize for nonfiction. Applebaum speaks English, French, Polish and Russian. She is married to Radoslaw Sikorski, a Polish politician and writer and the couple has two sons. In 2005, her husband served as Minister of Defense of the Polish government.
Statistikker
Værker

15

Also by

10

Medlemmer

5,690

Popularitet

#4,342

Vurdering

4.1
Anmeldelser

119

ISBN

181

Sprog

22

Udvalgt

8

Trædesten

207